Reviews
If you're not still deciding exactly what and where to buy then you might find it useful to read reviews from online shoppers and independent experts.
Product reviews
Just click on the green stars next to each product or the Product Reviews tab to see customer, expert and video reviews.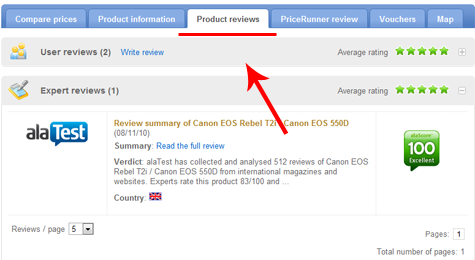 Retailer reviews
Once you've decided what to buy you might want to get advice from other shoppers on which retailer to buy from. Just click the green stars next to each retailer or the Info on Retailer link.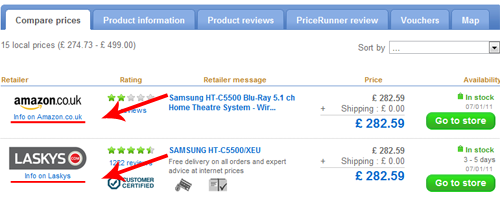 How to leave a review
Your experiences are valuable to other shoppers so please do take a moment to share your views:
First, become a member of PriceRunner
Search for the product or retailer you want to review
Click on the stars next to the product or retailer name to go into the reviews area
Click 'Write review'
Write your review with as much detail as possible and hit send.
Products can be reviewed by anyone but some retailers will only let you leave a review if you've bought something from them.
Tips for writing reviews
Here are a few tips for writing a great review:
Be honest about the good and the bad
Draw on your experience rather than anything you've heard
Keep it concise – but don't miss out any important details
Keep it friendly – anything abusive or defamatory will be removed
Don't include personal details or sensitive information like your contact details or bank account
Avoid writing in capital letters – it comes across like shouting
Questions about reviews? Contact operationsuk@pricerunner.com.