Does the basics - and more - to perfection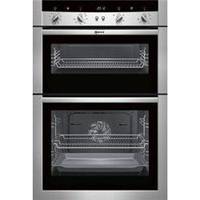 UK buyers on the hunt for a very good built-in double oven would do well to consider the multiple charms of the highly versatile Neff U15M52N3GB.
This excellent offering from Neff gives you two separate ovens and is 88.8 cm (H) x 59.4 cm (W) x 55 cm (D) in measurement. It's intended to slot into an integrated kitchen at eye level and the design is simply stunning in shiny black and stainless steel. The top oven has a 35 litre capacity and is conventionally heated. It also doubles up as a full length grill for browning lasagnes or cooking up a toasty snack. It uses convection to heat, meaning you can cook different items that require different heat levels at the same time – with the foods requiring a slow cook sitting on the bottom shelf and the foods that need more heat going at the top.
The bottom oven has a capacity of 67 litres and uses Neff's Circotherm fan system to heat food quickly and evenly, reducing the need for a pre-heat. It means each shelf is as hot as the other, offering you something a bit different from the top oven. The fan also prevents the transfer of odours and flavours so you can cook sweet and savoury recipes simultaneously.
The interior of both ovens is lined with enamel, making cleaning a doddle. It also comes with an easy-to-read digital display with delay timer. You can set this oven to cook automatically and it will also defrost. Crucially, this clever double oven heats extremely well across both cavities and even grills with the best of them.
What's hot:
Heats brilliantly
Perfect for baking
Lots of great features
What's not:
Needs hard wiring by an electrician
No grill handle
Can't fold down grill for cleaning
––Why you should buy it:__ This is a superb effort from Neff and can't come more highly recommended. It grills, defrosts and cooks equally brilliantly; its versatility giving the user fantastic control. It's close to being the perfect oven.