A basic budget tumble dryer that doesn't 'wow', but does the job just fine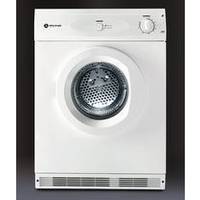 The White Knight 42AW is a cheap as chips vented tumble dryer that dries well enough and can handle some above-average loads. UK buyers take note.
For the uninitiated, a 'vented' tumble dryer is one that ejects the moisture extracted from your clothes via a length of pipe, so you need to ensure there's a safe place for the pipe i.e. an air vent or window. It has outer dimensions of 59.6 cm (W) x 85 cm (H) x 53 cm (D) and a maximum load capacity of 6kg, so it ought to be suitable for medium households. It's a very simple design with just two heat settings and a timer dial that clocks up to 140 minutes of drying time. This gives it the advantage – if you want to call it that – over its 'automatic' rivals in that you'll always know when the cycle is due to finish. However, it does mean you can over-dry your load and cause heat damage to your fabrics.
There's a 'final cool down' tumble function as well, which helps reduce creasing. Finally, the door opening isn't the widest so you may find loading and unloading a bit of an inconvenience if your arms are full.
The actual drying capability of the 42AW is pretty impressive – especially with cotton fabrics. It's quite quick for the price, but doesn't dry as evenly as some of the competitors. You are likely to find the odd wet sock amongst your t-shirts. Cleaning the lint filter and replacing the condenser water is a bit fiddlier than it should be, while the efficiency rating of 'C' isn't fantastic. But noise levels of 62 decibels are below average, so you shouldn't need to shout over it even when it's at its loudest point in the cycle.
What's hot:
Dries quickly
Very cheap
Pretty quiet
What's not:
Not that simple to clean
Lacking in features
Clothes quite creased
Why you should buy it: This is a very basic, very cheap model that nevertheless performs above expectations. It dries quickly and doesn't make a racket. If you want "cheap but effective" – this is your machine.