Modest in terms of features and sound quality, this TV is ideal for the kitchen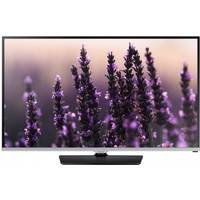 If you're looking for a small television in the UK, with fantastic picture quality that won't hit you in the pocket, the Samsung UE22H5000 is definitely worth your consideration. With an inbuilt HD Freeview Decoder, simple setup and great connectivity, this compact telly gets all the basics right and punches above its weight.
For such an inexpensive television, you'll be pleasantly surprised by the sharpness of the UE22H5000's Full HD 1080p screen. Samsung has created an algorithm called Wide Colour Enhancer Plus, which is designed to improve picture clarity and detail. The proof is in the pudding as the image quality here is superb. And with LED backlighting the UE22H5000 produces an all-round excellent picture – rich in colour, with strong blacks and great depth. Another interesting feature is Samsung's Football Mode. At the press of a button your TV will instantly boost the sound and picture, creating a stadium roar effect as well as making the green of the pitch extra vibrant.
The sound quality isn't much to write about. Being such a slim model that's to be expected, but with a digital audio output you can get around this by investing in a good soundbar. There are also two HDMI ports for enhanced sound and pictures from your Blu-ray player or games console. Finally, there's ConnectShare Movie – a simple but effective feature that allows you to plug in a USB drive and play movie files, share your music, or even display your holiday photos in an instant.
What's hot:
Surprisingly good picture
Very good value
Slim design
What's not:
Inbuilt speakers a bit basic
Not a Smart TV
Channel surfing can be slow
Why you should buy it: While it doesn't come with the whistles and bells of a standard Smart TV and is a bit lacklustre in terms of sound quality, the picture is extremely sharp and this makes it an excellent telly for the kitchen or spare room (or, indeed, if you're on a budget).