Panasonic Lumix DMC TZ60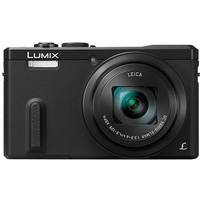 A truly excellent travel compact with an outstanding zoom lens.
The ultra-portability of the Panasonic Lumix TZ60 means never having to miss that perfect picture moment. Small in stature but big on features, this is an outstanding camera for those always on the go.
There's a big market in the UK for smaller, portable cameras, and if this is what you're looking for - the Panasonic Lumix TZ60 is a stand out performer. With its stunning zoom and massive 18 megapixels, combined with a host of interesting editing options, this camera captures images that would make even the amateur photographer look like a seasoned professional – with the benefit of not having to lug a bulky SLR around. The Lumix TZ60 has 30 times zoom and unlike some cameras, where zooming can cause a noticeable deterioration in quality, this snappy piece of kit creates great pictures even from great distance. Considering the compact size of the optical zoom, this is an impressive achievement.
The Lumix TZ60 snaps images of striking quality and with a bright LCD screen and intuitive menu system it also comes with a range of editing and finishing options. Here you can play around to your heart's content with the white balance, sharpness, contrast, ISO settings and so on – giving you remarkable control. The depth of colour and white balance is extraordinarily good. All shades are gloriously rich without ever merging or becoming grainy. Take pictures of fields of sunflowers or sunsets over beautiful green vales and capture it all in stunning detail. Ease of use is a big selling point for the Lumix TZ60, and that extends beyond its handy size. With in-built GPS you can automatically stamp the geolocation onto each picture, and with Wi-Fi and NFC functionality you can quite simply wirelessly transfer your images to another device for further editing options, storage or printing. A fun feature of the TZ60 is the ability to remotely control it using the Panasonic Image App, making for nice selfies or great candid shots of animals in nature.
The shell of this camera is made up of part polycarbonate and part magnesium alloy. Combined with a firm grip and raised thumb rest the TZ60 has an altogether high-end feel to it. At just 200 grams the Panasonic Lumix TZ60 can be carried around in a jacket pocket with ease. You can take professional-quality images without the hassle and expense of the full photographer's kit. The perfect travel companion, this is one for the budding "photo journalists" amongst you.
What's hot:
Clear, bright screen
Great zoom lens
Shoots both Raw and JPG
What's not:
No touchscreen
No standalone battery charger
Performance not so good above 1SO 400
Why you should buy it: This is without a doubt one of the best travel compacts on the market. The zoom, in particular, is outstanding and it excels on design and features. Don't get on that plane without one!