It's no secret that positive customer reviews are vital for any successful online business. To help you achieve that, PriceRunner provides a FREE customer reviews system to all our valued clients. This captures feedback from customers at the point of purchasing from you and again just after they've received their goods.
How does the review process work?
You'll need to display the reviews button below on your order confirmation page which your customers can click on once they've completed their purchase to begin their review.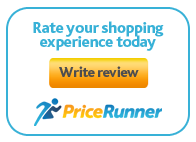 Customers will then be asked to give you ratings on how satisfied they were with their purchase, which we'll publish on PriceRunner.
A few days later once the customer has received the goods we'll follow that up with an email to ask for their ratings on the delivery and overall experience. Check out these examples of stage 1 and stage 2 of the survey.
All these reviews will then be published on PriceRunner and your star rating will highlight all your product listings.

You'll also be able to see your detailed feedback scores in the retailer dashboard and reply directly to any reviews you receive, which will be published on PriceRunner alongside the customer review.

We recommend displaying the PriceRunner reviews widget on your site to show your current rating and provide an independent endorsement to help build shoppers' trust.

How to implement customer reviews:
It's easy to implement the reviews on your site, you just need to add this code to your order confirmation page:
<script src="https://research.pricerunner.com/cgi-bin/quest/cssi.js?quest=102&client=[PUT_RETAILER_ID_HERE]"> </script> <a href="#" onclick="launchCSS()">Enter the text you want to display for the link here</a>
If you'd like to learn more about PriceRunner customer reviews or need help getting set-up please email our technical support team or call 020 3865 6315.