Apple iPhone SE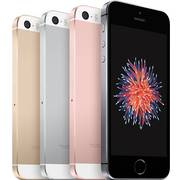 A decently-priced iPhone with some nice features and a great camera.
If you love the idea of getting an iPhone but are put off by the prices, why not consider the iPhone SE 64GB? It dispenses with some of the top-end tech but not that you'd notice. This is still a fabulous phone with great features, making this a perfect option for the budget-conscious UK buyer.
This is a cracking handset for Apple users that were disappointed when the iPhone 6 went big with the screen size, and wished they'd stuck with the more diminutive iPhone 5 design. The iPhone SE is a relatively-petite 4 inch model with scratch-proof glass and a brushed aluminium body that's remarkably similar – almost identical in fact – to that of the iPhone 5. For those of you accustomed to the bigger Android smartphones it might take a little while getting used to the smaller keyboard and display while watching videos, and you may feel like you're all thumbs while writing texts. But you'll adapt.
Although this is relatively cheap for an iPhone it still has a high-end look and feel to it, with a lovely home button and responsive touchscreen. The actual screen quality is very good without being great, but you'll be amazed by the power of its A9 processor, making this pretty much as fast as the iPhone 6. You can multitask, watch videos and browse the web with fantastic speed.
If you're looking for a model with a great camera you won't be disappointed. The inbuilt 12-megapixel camera is extremely effective, taking superb life-like photos, while the 4K video recorder is up there with the very best. If you were to criticise, Apple haven't put quite as much effort into the selfie camera, with a slightly disappointing 1.2-megapixels. While this is fine for Face Time chats it's not going to win any selfie photography awards if that's your thing. Many features of the iPhone 6 can be found here, including Touch ID for fingerprint-reading, Siri, tons of apps, and an excellent battery life (almost 12 hours of call time). Finally, with a very decent 64 GB of storage, you shouldn't have to worry about fitting in all your apps, photos, videos and music downloads.
What's hot:
It's a cheap iPhone
Nice design
Excellent camera
What's not:
4-inch screen not everyone's cup of tea
Selfie camera leaves a bit to be desired
No 3D Touch
Why you should buy it: If you want a bite of the Apple but have been put off by exorbitant prices, the iPhone SE is a great foot in the door. It's not on the level of an iPhone 6 or 7, but it's still a cracking piece of kit for the price.