Miele WDA101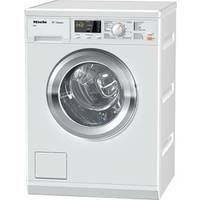 An efficient programme-packed all-rounder that's perfect for the family home.
Miele has a well-deserved reputation for producing attractive and efficient appliances, and the Miele WDA101 is the perfect example of their cutting edge technological know-how. It's an excellent choice for a family home, thanks to its spacious 7 kg drum capacity. Smart systems ensure optimum water usage and gentle washes which look after your most delicate fabrics, while the patented Miele drum design will remind you why this brand is so highly respected.
Like other machines in the range, the Miele WDA101 boasts the company's famous, patented honeycomb drum. This marvel of modern design incorporates a web-like surface design on the drum, which creates a natural water barrier between the fabrics and the drum itself. This means your laundry will glide across the drum and be protected from the sometimes damaging effects of hard spinning. The machine is also covered with a tough enamel coating which is scratch-proof, acid-proof, and a cinch to clean – Miele likes to boast that it's the only company to enamel the fronts of all its washing machines.
The Miele WDA101 has an impressive 15 wash programmes at its disposal, so whether you're throwing in delicate fabrics or mixed loads, you'll know you can have total control of how the laundry will be cleaned. Anyone who hates ironing – that means of all of us – will be pleased by the special anti-crease technology which means blouses, shirts and trousers will only need the quickest once-over with the iron after they emerge from the wash. The Express 20 feature also lets you get clothes cleaned in super-quick time – just 20 minutes, in fact.
As you'd expect from a washing machine from a major brand, the Miele WDA101 has reliability down to a T. There's the A+++ energy efficiency rating for one thing, which ensures you won't have to pay over the odds for great performance. It also boasts an impressive 1400 rpm spin speed, so you can expect a robust wash every time, with more diminished drying time compared to less speedy machines. The machine carries the Miele Quality Guarantee, which means it's been tested to the equivalent of over two decades of usage. Pretty reassuring, really, when you consider how much an average family will use their washing machine.
What's hot:
Exclusive technology
Masterly multi-tasking
All-round reliability
What's not:
Not cheap to buy
Some cycles take a long time
Can only open door when turned on
Why you should buy it: This mega-efficient machine is easy to use and incredibly quiet, which can often be a deal breaker. It's a good all-rounder and well worth the slightly higher price tag.