Bosch WAN28100GB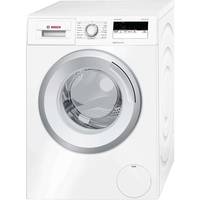 Good at cleaning and simple to use - this machine is great value for money.
Are you after a reasonably-priced washing machine that won't let you down? UK buyers would be foolish not to put the excellent Bosch WAN28100GB on their shortlist.
This freestanding offering from Bosch has a capacity of 7 kg, making it suitable for medium-sized households. It has a maximum spin speed of 1,400 rpm and an easy-to-read LED display with control dial. This allows you to monitor the time remaining of your wash programme, and provides you with settings for temperature and spin speeds. There are 15 programmes from delicates, duvets, wools, sportswear and shirts, to a special EcoSilence Drive for an extra-efficient, ultra-quiet wash.
There are numerous bits of tech to help the environment and reduce your bills, like VarioPerfect and ActiveWater, which reduce energy and water usage respectively. There's also a handy quick wash mode for small loads and AntiVibration to provide stability and reduce noise levels. If you want to push your wash back to the evening to take advantage of cheaper energy rates, you can do so with the 12/24 hour start delay. In addition there are some other handy features including a child safety lock; an end of cycle buzzer; an overdosage indicator; and '3D AquaSpa' washing for rapid water penetration and cleaner finishes.
The Bosch WAN28100GB is extremely easy to use, but best of all it's brilliant at washing and cleaning clothes. The B-rated spin cycle is great at removing excess water and will radically reduce the drying times of your fabrics. If it has a flaw it's that the cotton programme is surprisingly long, and the rinsing programme is conspicuously average. Otherwise this is a pretty quiet machine, generating just 54 dB while washing, but a slightly more noticeable 75 dB while spinning. It also has a very good energy rating of A +++.
What's hot:
Cleans very well
Simple to use
Spins well
What's not:
Noisy spin
Below average rinsing power
A bit less efficient than average despite A +++ rating
Why you should buy it: This is a very decent washing machine from Bosch that cleans extremely well and won't break the bank. It has a couple of small flaws – notably in rinsing and the slow cotton cycle – but is otherwise highly recommended.