White Knight 44AW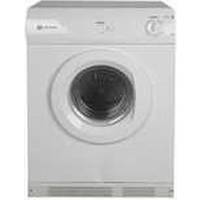 As basic as the price suggests, but does a decent, speedy job of drying.
UK buyers looking for a small, simple tumble dryer that won't cost the Earth should consider the White Knight 44AW. It gets the basics right, but isn't without its design flaws.
The White Knight 44AW is a freestanding, vented tumble dryer with a traditional appearance. The dimensions of 59.6 cm (W) x 85 cm (H) x 53 cm (D) are fairly compact, with the 6 kg maximum drying load being more suited to a couple or small household. If you were unsure what a "vented" dryer means, it's a method of extracting the hot moist air from the machine, usually by hosepipe. In effect you will need a window or somewhere for the hose to go to avoid your kitchen or bathroom becoming a steam room.
There aren't many modern features on display here. You get a bog-standard two heat settings with up to 140 minutes of drying time, a reverse tumble action to reduce tangles and creases, while there's also a fluff filter and child lock. Settings are all manual - you simply select a drying time to suit your load materials, while a dial counts down to the finish. The door opening is frustratingly narrow so loading and unloading is a bit of a chore.
The 44AW is quite quick and powerful – you certainly won't be disappointed with the results. The reverse tumble action is also very effective, leaving many items ready to go back in the clothes drawer without the need of an iron. The decibel output of 62 is similar to a conversation in a restaurant – not particularly quiet, but hardly a racket. Finally, you need to keep an eye on the lint filter as there's no warning light when it's ready to be cleaned.
What's hot:
Dries quickly and evenly
Leaves minimal creasing
Reasonably priced
What's not:
Quite small
Difficult to load
No warning when lint filter needs cleaning
Why you should buy it: This is a back-to-basics model that's not particularly spacious. It makes a bit of noise and lacks mod cons, but is otherwise a very effective dryer.