Bosch BCH6PETGB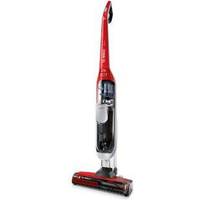 A powerful cordless upright with a great battery life. Also converts to a handheld.
The Bosch BCH6PETGB is an upright, cordless stick vacuum cleaner that can be converted into a handheld device for extra manageability. UK buyers can't fail to be impressed with the power and portability of this brilliant piece of kit.
This well-designed vacuum cleaner is 116 cm long with its detachable stick, and weighs 4.6 kg. The dust storage capacity is a fairly small 0.9 litres so will require emptying at regular intervals. Taking another leaf out of the Dyson book it's also bagless, with a removable dust receptacle. The rechargeable lithium-ion battery lasts a full hour, giving you ample time to complete your cleaning and then some. Although to fully recharge the battery there's a time-consuming six hour wait.
It has a handy set of tools such as a crevice device for those hard to reach corners and cracks; a dusting brush; an upholstery tool for sofas and curtains; and a means to convert the vacuum cleaner into a (fairly bulky) handheld cleaner. There's also a shoulder strap for carrying it in handheld mode when reaching for curtains and other high spots, but it must be said it's not nearly as portable as its direct competitor, the Dyson V6.
This is a great little cleaner for both hard floors and carpet. It's as effective at removing dust as it is with larger particles and pet hair. The filtration system also ensures a very high percentage of debris is trapped in the dust container, making this a sensible choice for allergy sufferers. There's also little sign of any drop off in suction as the battery nears the end of its charge. It's relatively quiet and efficient, but if you had a criticism it would be that the process of converting the Bosch BCH6PETGB from stick cleaner to handheld is a bit of a chore, and it's not the easiest cleaner for reaching high spots.
What's hot:
Effective suction on hard and soft surfaces
Excellent battery life
Great for allergy sufferers
What's not:
Converting to handheld time-consuming and fiddly
Not the most manoeuvrable
Dust container fiddly
Why you should buy it: This is an excellent cordless vacuum cleaner – it's powerful with a nice long battery charge. It can be a bit fiddly, but it won't let you down when it comes to the basics.