Superb pictures and sound at a truly affordable price.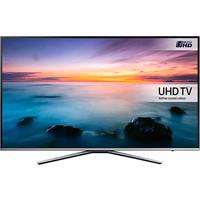 This 4K-ready UHD television from Samsung gives fantastic value for money. For less than a grand you get an impressive 49-inch screen with great picture quality, supported by an array of modern Smart TV features and excellent, well-balanced sound.
If you're in the market for an affordable non-curved Smart TV capable of producing stunningly clear 4K pictures, you should certainly consider the UE49KU6400. The latest HDR (High Dynamic Range) technology is available here, with a screen that delivers superb lifelike pictures in astonishing detail. HD television in particular looks fantastic and colour reproduction is extremely tight. The blacks are blacker and whites whiter than many other televisions, while motion is also largely captured very well.
The sound quality is very impressive and good enough not to necessitate buying a soundbar. The speakers handle high volume and heavy bass with aplomb, creating a truly immersive cinematic experience when watching movies. Of course you can still connect this model to a home theatre system for the full effect, with plenty of digital audio output and HDMI ports.
Finally, if you're a fan of gizmos and features, this TV has most of the latest technology. You get Freesat HD, Freeview HD, PVR functionality and all the usual Smart TV streaming services. The PVR (Personal Video Recorder) feature allows you to record live TV onto a USB storage device and with the inbuilt Freeview and Freesat decoders there'll be no shortage of complimentary TV to watch. And Samsung's Tizen OS makes navigating all your TV's features extremely quick and user-friendly.
What's hot:
Excellent 4K and HD pictures
Very good sound
Loads of features
What's not:
Could have a better remote control
Slightly slow switching between channels
Why you should buy it: There are few better affordable TVs available in the UK. With superb pictures and truly exceptional sound quality, this is definitely worth a punt.