Samsung Galaxy S5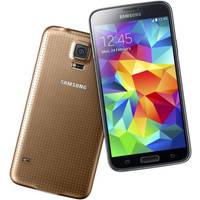 The small handset with a big-hitting screen. At a modest price, too. If you're after an ultra-slim, portable handset at a reasonable price, then look no further than the Samsung Galaxy S5 Mini. Dust-proof, water-resistant and with an outstanding screen, it ticks a lot of the right boxes.
They say that good things come in small packages and at 5.16 inches long by 2.55 inches wide, the Galaxy S5 Mini is barely noticeable in the pocket. It fits snugly in the hand, while its textured back and sides provide added grip. The screen might be relatively small, but it packs a real punch. Its 4.5 inches of HD use Super AMOLED technology to give vibrant colour shades and deep blacks. You'll find the sharpness and clarity of your photos remarkable.
Along with its ergonomic design and crisp display, the Galaxy S5 Mini has a range of features you'd normally associate with higher-end rivals. Unusually for a modestly-priced phone, the Galaxy S5 Mini is water- and dust-proof, just like its big brother the Galaxy S5. It's also possible to expand the S5 Mini's 16 GB memory by purchasing an SD card (up to 64 GB, meaning you can potentially store over 10,000 songs). As with later Samsung models, this handset also comes with a fingerprint scanner and heartbeat monitor. Navigating the Android operating system is simple and fast, with most apps working exactly as you'd expect. You might find you fill 16 GB pretty quickly, but by expanding the memory you should be able to download and store all your favourite apps without difficulty.
Containing a 1.4 GHz Quad-Core Processor and 1.5 GB of RAM, this model is marginally less powerful and therefore slower than the standard Galaxy S5, but this is to be expected from a budget phone model. Having said that, Samsung have created an excellent little handset here, with a cracking camera, nice design, top of the range screen, good memory, and a decent battery (up to two days between charges). The Galaxy S5 Mini certainly has its plus points and is one of the finest budget phones currently available on the UK market.