Samsung Galaxy S5 Mini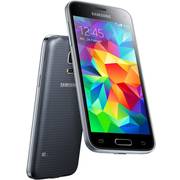 A small handset with a great camera, lovely screen and plenty of features.
The Samsung Galaxy S5 Mini, with its characteristic rounded rectangular design, compact and sleek, delivers a great user experience - but don't let yourself be fooled by its diminutive frame and relatively low price tag, because this little smartphone packs a stunning AMOLED 4.5-inch touchscreen display and a range of top features.
The S5 Mini comes with 16 GB of memory, which can fortunately be expanded via a microSD card slot to up to 64GB – enabling you to capture plenty of great photos and videos, in addition to downloading hundreds of applications, songs and movies. On the back you'll find the lens of an 8-megapixel camera and below it sits a simple LED flash and heart rate sensor (for the fitness fans or the simply curious). The 8-megapixel camera captures all the important moments in a split second, delivering crystal-clear pictures and videos that you can quickly and easily share with your friends on social media.
As a 4G handset you can download your favourite applications and stream TV five times faster than 3G services allow. The Galaxy S5 Mini incorporates many of Samsung's popular and ground-breaking innovations such as Smart Stay, a smart scroll screen, and S Voice. But unlike the original S5 version the microUSB port is not hidden behind an annoying flap – despite being waterproof. You also get a handy home button that doubles up as a fingerprint sensor, making it possible for your new Samsung Galaxy S5 Mini to maintain the highest security levels.
The Quad-core 1.4 GHz Cortex-A7 processor ensures that multitasking and browsing the web is a piece of cake, while the 4.5-inch 720p AMOLED display with integrated sub-pixels, only seen in Samsung phones, produces fantastic sharp imagery. Finally, the battery life is excellent, and can last up to two days depending on its usage.
What's hot:
Lovely 8MP camera
Sharp, vibrant screen
Great battery life
What's not:
Performance can be sluggish
Plastic body feels a little cheap
Fingerprint scanner not great
Why you should buy it: This is a fantastic little phone and perfect for those UK buyers looking for a smaller handset that nevertheless still packs a punch.