Apple iPhone 6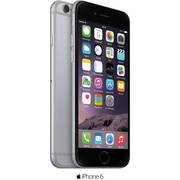 Beautiful design and build, plus impressive performance. Apple excels again.
The iPhone 6 heralds the moment Apple broke with its tradition of creating smartphones with smaller screens, and threw in its lot to compete with the larger-screen Android phones. But like its predecessors, it's still designed to stand out from the pack, with a gorgeous sleek design and impeccable screen.
Despite the relatively large display of 4.7 inches, the iPhone 6 feels comfortable to use even with one hand, and its smooth, rounded edges still fit the Apple family "look". The iPhone 6 is made of stylish aluminium and equipped with a convenient fingerprint reader that makes it easy to lock the phone or make secure online purchases. The screen itself has a resolution of 1334 x 750 pixels, a little behind many of the flagship models of competitors such as Samsung, Sony or HTC. Nevertheless the image quality is right up there with the best of them - the iPhone 6 comes equipped with a Retina display, something that users of the latest iPads or Macbook Pros will be familiar with. The Retina screen is characterized by a highly accurate colour reproduction and razor sharp imagery. The contrast in particular is very strong indeed, while the brightness levels are so potent this phone can be easily read in even the brightest outdoor conditions.
The iPhone 6 comes with a superb 8 MP camera, which like the resolution reads less well on paper than it does in practice. The iPhone 6 actually stands up very well with the competition, and is equipped with, amongst other great technologies, 'Focus Pixels', which controls the light better and greatly enhances functions such as autofocus. Meanwhile, the iPhone 6:01 timelapse function integrated in the photo app allows you to record stunning timelapses, while it can also shoot slow motion up to an amazing 240 FPS. The selfie camera is a great improvement on earlier iPhone modes, and can cope with low-light levels admirably.
One negative that many will be familiar with is Apple's persistence in failing to provide an SD slot for memory expansion, meaning that there's no way to upgrade this model's supplied 16 GB of storage. Similarly, the battery can't be replaced – but fortunately this is less of an issue with the iPhone 6's excellent battery life, which can almost last two days if being careful.
What's hot:
Fantastic build quality
Great, responsive performance
Impressive 8MP camera
What's not:
No SD slot
Not the smallest handset
Pricey
Why you should buy it: The iPhone 6 is a very successful continuation of Apple's tradition of delivering stylish, functional phones with innovative designs. It may not be the cheapest model out there, but it delivers where it counts. And that's why it's well worth considering