Samsung Galaxy A3 SM-A300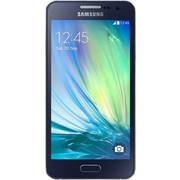 Stylish and yet inexpensive, this lightweight handset has a lot going for it.
The Samsung Galaxy A3 is an entry-level phone which is the smallest and cheapest in its class, but nevertheless also one of the most beautiful. UK buyers looking to save a few bucks but who still want a classy phone should look no further.
Samsung's Galaxy A3 is the epitome of elegance with its stylish metal body, and it's one of the lightest and slimmest phones that Samsung has ever made. Although very thin, it feels robust and of a high build quality. On the back you'll find the lens of the 8-megapixel camera protruding slightly. The edges of the phone are rounded, making it fit very snugly in the hand. The camera is surprisingly sharp for an inexpensive model, and it comes with some neat features such as a burst function that allows you to take 20 pictures in quick succession, which you can then join together in a GIF animation. There's also a nice 5-megapixel front-facing camera with a new wide selfie function to capture plenty of background (and more friends) in your selfie shots.
The small 4.5 inch display makes it easy to reach all the functions on the screen without having to use two hands, while the strong AMOLED screen displays colours and contrasts of the highest standards, making it a real pleasure to view pictures and videos.
Inside you'll find a quad-core 1.2 GHz Qualcomm Snapdragon 410 processor and 1.5 GB of RAM, so there are no problems running Android 4.4.4 KitKat, and surfing the web or playing games is smooth and fast. The Samsung Galaxy A3 comes with an inbuilt 16 GB of memory but if you want to expand that you can access a microSD slot to take the storage capacity up to 64 GB – something we'd recommend if you want to film a lot of videos or download lots of MP3s.
What's hot:
Stylish metal design
Great battery life
Impressively light
What's not:
Pretty average camera
No LED notification
Expensive for what it is - you can get similar for less
Why you should buy it: The low weight of only 110 grams makes the Samsung Galaxy A3 extremely light and portable. You'll barely notice it inside your pocket. This is a phone which brings together beautiful design, good battery life and a gorgeous display. If you appreciate a slim mobile with a nice design and plenty of cool features, then the Samsung Galaxy A3 SM-A300 has to be on your shortlist.