LG G4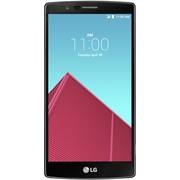 The camera is the real stand-out feature of this all-round great handset.
The LG G4 went on sale in the UK in 2015 and went on to become one of LG's most successful smartphones ever. With a great performance, nice design, some natty features, an excellent camera and a top display, the G4 still meets all the needs of a modern smartphone user, and then some.
The phone is equipped with a 5.5 inch IPS Quantum screen that's genuinely of the very highest quality, delivering formidable sharpness. The screen is absolutely top notch, both in terms of brightness and contrast, allowing you to see the stunning display clearly in all conditions. And LG has really gone to town with the G4 camera, which is now as high as 16 megapixels. However as any keen photographer will know, megapixels on their own aren't a reliable indicator of quality. A low aperture number is another great barometer, and here the G4 really impresses, with an aperture level of f1.8, making it a real prince amongst smartphones. In practical terms this means that the LG G4 can take striking photos even in poor light, but it also drastically improves pictures in any light conditions. In conjunction with a Color Spectrum Sensor, which produces extremely accurate colours, the G4 will absolutely not disappoint if you're looking for a top camera phone. There's also an excellent manual mode for the semi-pros amongst you, giving you control over brightness levels, allowing you to freeze movement more effectively, and providing a range of other manual controls. It also has a whopping 8 megapixel front-facing camera to provide truly stunning selfies.
The LG G4 comes with the fast operating system Android 5.1 Lollipop, and it's packed with great features. For example Smart Lock will unlock your handset using face recognition software, meaning no fiddly fingerprint readers or PINs. You can also set Smart Lock to automatically disable itself when you're at home on your Wi-Fi network for quicker access. The phone has a removable battery and room for an additional micro SD card, so you can easily get extra storage – up to an amazing 200 GB in fact – for all your photos, videos, apps and other downloads.
Finally, the G4 takes design and build-quality to a whole new level. It's slightly convex in shape, and comes in nine different colours, including an option to have a delicate leather back that takes 12 weeks to manufacture, and oozes style and class.
What's hot:
Exceptional camera
Space for an additional micro SD card to boost storage
Removable battery
What's not:
No built-in wireless charging
Plastic build
Could be better on the style and design fronts
Why you should buy it: Overall this is a seriously tasty handset and comes strongly recommended. It's particularly good for the photography enthusiasts out there.