Motorola Moto G LTE 3rd Gen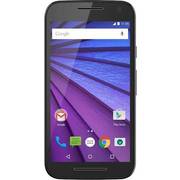 Great performance and battery life at a great price - and it's water resistant!
The Moto G is the third generation of Moto G mobiles, and Motorola has become something of a specialist in great low-cost handsets. The "G", incidentally, stands for "Global", and with prices like these almost anyone can get in on the action.
The market for mobile phones has never been greater and more varied than it is today. This means that you can get whatever meets your needs, as long as you're ready to pay for it. In most cases, quality and price go hand in hand, so if you're looking for an inexpensive price it normally follows that the handset will be fairly basic. But if you look hard enough you might just find a real gem. And the Motorola Moto G LTE 8GB (3rd Gen) certainly falls into this category.
The design of the Moto G LTE isn't exactly sleek, it must be said, with measurements of (H) 142.1 mm x (W) 72.4 mm x (D) 11.6 mm, and weighing in at 155 grams. The phone is robust and easy to handle though, and it feels good in the palm. Although the supplied 8 GB of storage is on the low side, there's an SD slot behind the removable back cover, allowing you to expand by 32 GB. Although removable, this handset is actually waterproof, and can survive half an hour at a depth of one meter.
The operating system is Android Lollipop, and with a quad-core 1.4GHz Snapdragon 410 processor, and 1 GB of RAM, you actually get a lot of power for your money. Of particular note is the amazing battery life, which can see you going two days without so much as needing a sniff of the charger. Finally, the two cameras, particularly the rear-facing 13 mega pixel camera, provide you with an opportunity to take some surprisingly good quality photos.
What's hot:
Great value for money
Excellent performance
Water resistant
What's not:
Camera weak in low light
No notification light
8GB model only comes with IGB of RAM
Why you should buy it: Why spend a small fortune on your next mobile phone when you can get a very decent model, with plenty of great features, for a very favourable price?