Samsung Galaxy S5 Neo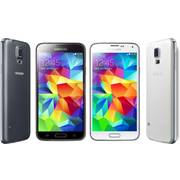 Plenty of features and a decent camera at a pretty reasonable price.
The Samsung Galaxy S5 Neo is a powerful addition to the popular Galaxy S5 family. It's a mid-level phone that doesn't cost a bomb, although it's packed to the gills with great features. UK buyers should take note.
The 5.1-inch Full HD Super AMOLED screen provides stunning colours and contrast, which makes it an absolute pleasure to use for browsing through your holiday snaps, watching movies, or recording videos. The Galaxy S5 Neo's 16 megapixel camera has been equipped with some fantastic updates, resulting in improved photos even in low light conditions. Also the front camera aperture has been upgraded and now has a total of 5 megapixels, making selfies better than ever too. And with a quick double-tap of the home button you can instantly switch on the camera feature for easy access, even directly from standby.
The Samsung Galaxy S5 Neo has an Octa-core processor and 2 GB of RAM to deliver a towering performance. Combined with an improved network connection the Galaxy S5 Neo can now download at 300 Mbps, while the processor's efficiency also contributes to longer battery life – 13 hours of constant video watching or web browsing, and an amazing 73 hours if used solely for audio playback. This model also has a unique Ultra Power Save Mode whereby the usual practice of dimming the screen brightness and reducing the screen timeout is supplemented by various phone functions switching off, so only the basics such as making phone calls or sending texts is possible. This incredibly useful battery-saving mode can also switch your display to black-and-white, to wring every last bit of juice out of the battery.
This mobile has 16 GB of internal memory, which these days fills up fairly quickly – especially if you make use of the camera's Full HD (1920 x 1080) video recording at 30fps. Fortunately it's expandable to 128 GB via an accessible microSD slot. The socket for charging isn't covered by a flap, unlike earlier models, yet the phone is still dust and water resistant. Weighing just 145 grams it's one of the lighter smartphones out there, making it almost unnoticeable even in a trouser pocket, while its slight frame makes it very easy to operate with just one hand. Fitness fans will also enjoy the S Health app and heart rate sensor. An inbuilt pedometer will help you generate graphs and statistics to help you plan your fitness regime, while the Galaxy S5 Neo is also compatible with Samsung's other wearable tech for the complete fitness experience.
What's hot:
Takes good pictures, even in low light
Dust- and waterproof
MicroSD slot (so you can expand the internal memory)
What's not:
No fingerprint scanner
Video options are limited
Feels a little dated
Why you should buy it: Overall this is a great little phone which punches above its weight, and comes highly recommended for anyone looking to save a few pounds but equally doesn't want to compromise on quality.