Sony Xperia Z5 Compact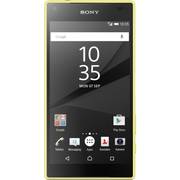 A super little Android that outperforms others at the same price.
The Sony Xperia Z5 Compact is the little brother of the Xperia Z5 and the slightly more luxurious Sony Xperia Z5 Premium. It's very similar in terms of both size and features, but with a lower price tag. UK buyers looking for an inexpensive mobile phone should have this on their shortlist.
When it comes to design, the Sony Xperia Z5 Compact is obviously one of the smaller members of the Xperia family, fitting comfortably even in a trouser pocket and feeling snug in the hand. It has a fingerprint reader on the side, bucking the trend of the majority of mobiles which tend to use the home button for fingerprint unlocking. But actually the placement to the side is practical as well as unconventional. In addition, the Sony Xperia Z5 Compact is equipped with a dedicated camera button, which is a great for instantly bringing up your camera app even while your phone is in standby mode.
Sony is renowned for designing brilliant cameras on their Xperia phones, and the Sony Xperia Z5 Compact is no exception. The phone's rear-facing main camera has a massive 32 megapixels while the phone's "selfie camera" goes up to 5.1 megapixels. Although the number of pixels on a camera is far from being the only factor to take into account when determining its quality, it is a good indicator of how seriously Sony takes the Xperia Z5 Compact as a premium camera phone. If you wish to create home videos, it shoots in HD quality at 30 frames per second, while providing a wide range of fantastic effects and filters.
The Sony Xperia Z5 Compact is equipped with a 4.6 inch 720p HD LCD screen that reaches 323 ppi. The screen is scratch-resistant, which is nice to know if you're the type who absent-mindedly puts their phone in their pocket together with coins and keys. With Sony's Bravia display technology, the screen on the Sony Xperia Z5 Compact is sharp and delivers great colour reproduction, although the resolution falls short of being in full HD. For some, the colours might even be a bit too lively, as Sony's built-in image enhancement function really cranks up the vibrant tones to the max. However, if you prefer a more subdued colour scheme you can easily turn off this feature. The Sony Xperia Z5 Compact is both dust and waterproof - features you usually only find on the top models. It can even survive under water for up to 30 minutes, which is quite exceptional. Overall this is a great little handset for someone on a budget who nevertheless wants a fantastic camera and some top features.
What's hot:
Excellent camera
Good battery life
Nice fingerprint sensor
What's not:
No wireless charging
Blocky design
720p screen - would expect more for the money
Why you should buy it: This is one of the best "mini" Androids on the market, no question. Its performance is up there with some pretty big players, the camera is awesome and it's water-resistant which, let's face it, is always a useful thing given the UK weather. It was pricey when it launched, but at the current prices it's actually decent value for money. Add it to your shortlist.