Apple iPhone 6S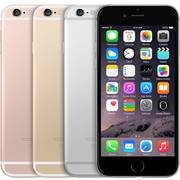 The performance is as beautiful as the design here. And the camera is ace!
If your heart is set on Apple, then you won't find many better phones than the iPhone 6s (with the exception being the iPhone 7 of course). This was Apple's piece de resistance, and it's easy to see why. Powerful, with a staggeringly good camera and beautiful design – it's been a favourite amongst UK buyers for good reason.
Firstly, it must be pointed out that some owners of the iPhone 6 may well be disappointed that the design of the 6s looks almost identical to that of its award-winning predecessor. The razor-sharp 4.7" screen is still housed in aerospace-standard aluminium, while the glass is scratch-proof and exceptionally durable. The build oozes quality, and the usability isn't far behind. The iPhone 6s camera is something to behold. The 12-megapixel iSight back-camera, combined with the 5-megapixel front-facing Facetime HD camera, with ƒ/2.2 aperture, are amongst the very best mobile phone cameras available. You could practically shoot a Hollywood-standard movie with 4K video recording (3840 by 2160) at 30 FPS.
The major improvement in the iPhone 6s comes in the form its power and new features. The operating system iOS 9 and A9 processor, with 2 GB of RAM, makes the iPhone 6S extremely fast. In fact, the iPhone's custom-designed 64-bit A9 chip delivers a desktop computer performance, with CPU speeds up to 70% faster, and a GPU up to 90% faster. The other key innovation is the introduction of 3D Touch – a new system for interacting with your mobile phone, using pressure-sensitivity to open up a range of options for your apps and phone features depending on how hard you tap. It's great fun getting to learn this new system and it's likely to keep coming back in future iPhone models.
In summary, one can say that the iPhone 6S stands out from the crowd for its ease to use, its speed, and its raw power. The iPhone 6S is an excellent all-round performer, providing not only a world-class camera but also a great musical experience, with iTunes still unparalleled in its well-designed simplicity. The only drawback is that the memory isn't expandable, but with 64 GB of storage you're unlikely to find this space being eaten up quickly. The Apple iPhone 6s doesn't come cheap, but quality rarely does.
What's hot:
Great camera capability
3D Touch is excellent
Excellent camera
What's not:
Pretty large!
No fast charging
Lacks optical image stabilisation
Why you should buy it: The iPhone 6S is, quite simply, brilliant on almost every front. It's powerful, fast and excels on the camera front. If you're Apple lover you'll take very little persuading, but others should listen too. It doesn't come cheap, but style and world-class performance rarely do.