Apple iPhone 6S Plus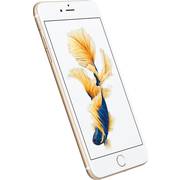 Incredibly powerful, the screen is large and so is this iPhone's offering.
Apple is renowned worldwide for the quality of its products in terms of both content and design - and the iPhone 6s Plus is no exception. UK buyers who want a great all round handset with a decent sized screen have to give the iPhone 6s some consideration.
The iPhone 6s Plus is an uncommonly efficient and powerful phone that despite its slim 7.3 mm frame, and being beautifully designed, can actually be compared to an old workhorse - it can really pull heavy loads when put to use. The phone is among the fastest on the market with its muscular A9 processor and 64-bit architecture, making surfing the web on your mobile, not to mention streaming movies or music, an absolute joy. The iPhone 6s Plus guarantees speed of use, no matter what you throw its way.
The Retina HD display with 3D Touch, at 5.5-inches, is larger than most iPhone screens. The screen comes with a really sharp resolution - 1920-by-1080-pixel resolution at 401 ppi, ensuring you get the most out of your photos and videos. The 12 megapixel rear-facing camera is absolutely brilliant and with oodles of great filters and effects it will really appeal to your creative instincts. You get to play with panoramas, night shots, face detection and exposure control amongst other great tools. And with 30 or 60 fps options you can shoot some awesome videos with Apple. It's not a stretch to say this phone has one of the very best cameras on the market.
The phone comes with the operating system iOs10 to give you access to an infinite number of apps on the App Store. The phone is connected to iCloud to give you more storage options than the miserly 16 GB of included memory. Unfortunately there's no way to upgrade – a familiar bugbear of Apple users. But iCloud does at least automatically backup your documents, pictures and contacts – so if you lose your phone, your content will reappear as soon as you get a replacement. For your privacy and security it comes with a fingerprint reader in the home button, ensuring only you can unlock the phone. The fingerprint reader can also be used when you need to purchase apps or content in the App Store. The iPhone 6s Plus is a truly excellent high-end smartphone.
What's hot:
Slim, stylish design
Stunning display
Larger display is great for media consumption and productivity
What's not:
Can't extend memory
Larger display potentially a negative, too - not exactly a small handset!
Expensive
Why you should buy it: Sitting as it does at the cross-section between phone and tablet, you'll either love or loathe the iPhone 6S Plus. Of course it has the power, speed and style we've come to expect of Apple, and the camera's pretty good. But pocket-sized it ain't (unless you have really big pockets). There's no denying it's a superb piece of kit, though!