Google Nexus 5X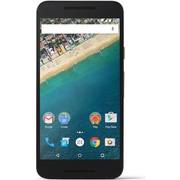 A great value, feature-filled compact phone with a top-notch camera.
The Google Nexus 5X is an inexpensive compact mobile phone, with a cracking camera and a host of great features – not least its top notch Android operating system. UK buyers looking for a bargain may have just found their new smartphone.
Google and Korean company LG have collaborated on several mobile phones with brilliant results. The Nexus 5X, unveiled at the back end of 2015, is an excellent addition to the Nexus family, with the Android OS better than ever. The Nexus 5X is the direct successor to the Nexus 5, and it surpasses the Nexus 5 in a great many areas to fully justify the upgrade.
The Nexus 5X is a phone of high quality. It may not be constructed entirely from aluminium and glass like many of its higher-end rivals but the polycarbonate material used for its back is nonetheless durable and pleasant in the palm. It's a particularly user-friendly phone, in part attributable to the intuitive Android 5.0 Marshmallow OS (Android Nougat is also available to download). The Nexus 5X is smaller than its 5P cousin with a 5.2" screen, making it easily usable with one hand. It has an excellent 12.3 megapixel camera that can record video in 4K, takes awesome pictures in low light, and has a superb razor-sharp display with a Full HD resolution of 1080p.
'Now on Tap' is a nice little feature of the Nexus 5X, whereby Google helpfully joins the dots between your apps, phone functions and the Internet: dates, for example in an email from a friend, can be automatically logged in your calendar; local landmarks can be instantly identified through your camera lens, bringing up relevant Google web searches; phone numbers in a text can be instantly put into your contacts; and so on. Now on Tap provides excellent constructive assistance whatever you're doing, and it never feels intrusive. The Nexus 5X also has a handy finger scanner, which you can use to unlock your phone when it goes into standby.
What's hot:
5.2 inch display
Easy to hold in one hand
Inexpensive
What's not:
No wireless charging
Just 2GB of RAM
Pretty average battery
Why you should buy it: Generally the Nexus 5X is very user-friendly mobile phone that's inexpensive and lightweight. It may not be the most powerful but it's among the best mobile phones in its class.