Inexpensive, powerful and premium-feeling, with a great battery life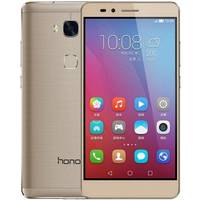 The Huawei Honor 5X Dual Sim is a budget smartphone with an almost high-end feel. With a powerful processor, some decent features, dual SIM, and a great battery life, this is a fascinating entry to the smartphone market.
Looking at it for the first time you'd be surprised that the Honor 5X is a sub-£200 model. Constructed from brushed aluminium and featuring an impressive 5.5-inch HD display with 16 million colours, it feels much more high-end than the price tag would suggest. The Honor 5X comes with a responsive fingerprint reader and auto-brightness to ensure it's relatively easy to view even in sunlight.
The octa-core processor makes browsing the web or navigating your phone's menu system responsive and fast. There's the occasional hang if you open too many apps or web pages, but otherwise the performance is quite strong. It's an Android phone and therefore has access to all the usual mail, weather and calendar apps – amongst many others – as well as Google Play if you want to add more. The 13-megapixel camera could be sharper and it struggles a bit in low light, but is perfectly serviceable in general. The 5-megapixel front-facing camera takes decent if unspectacular selfies too.
The Honor 5X only comes with a miserable 16 GB of storage, which is insufficient these days for storing your music and videos. Luckily Huawei makes it easy to expand to 128 GB with an easy-to-access microSD slot. Calls come through clearly and you also have the option of utilising the dual-SIM function – meaning you can take and make calls from two separate telephone numbers on the one device. This is great if you have a work and private phone, or you travel a lot. Finally, the battery life is superb. You can talk for a full 25 hours before it expires, or you can browse the web continually for 10 hours.
What's hot:
Powerful processor
Excellent display
Long battery life
What's not:
Lacking features
A bit bulky
16 GB installed storage needs upgrading
Why you should buy it: If you're in the UK looking for a ludicrously-cheap phone with a premium feel, or you just need a serviceable dual-SIM phone for travel – you must give the Huawei Honor 5X a once over. It's one of the best budget phones around.