Great Apple design and build at a lower price than some other iPhones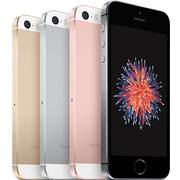 If you're looking for a cheaper iPhone, are pining for the design of the iPhone 5, or just want a top-end small-screen smartphone – then the iPhone SE could be the one for you.
A lot of Apple fans bemoaned the fact the iPhone 6 went big to keep up with the Joneses, and there is a sizeable market out there for a smaller phone that still matches the power of the big boys. The iPhone SE has a diminutive 4 inch scratch-resistant screen while the body is crafted from brushed aluminium for a comfortable, sturdy feel in the hand. Despite being quite a lot cheaper than its big brothers, it still gives the impression of being a high-end product. The smaller size makes browsing and texting in one hand a cinch - though be warned if you've grown accustomed to big screens it may take a while to get used to the tiny on-screen keyboard again. You'll also need good eyesight for watching videos. The ergonomic centre button feels indestructible and is pleasing to push, while also doubling up as a fingerprint reader for security. It's very similar in many ways to the 5s. The screen is decent with bright colours and sharp contrasts, but lacks the wow factor you find with some of the very latest models.
If you previously owned a 5s you'll immediately notice the speed upgrade offered by the A9 processor – the same chip as the iPhone 6. Browsing the web or switching from app to app is now lightning fast and up there with the best. The 12-megapixel camera captures stunningly detailed, true-to-life photos, and the staggering 4K video recorder makes this one of the best phone cameras on the UK market. However, the front-facing camera has a rather unimposing 1.2-megapixels, delivering barely adequate imagery, which will disappoint keen selfie fans.
There are many more features including Live Photos for creating spooky moving stills; Touch ID for fingerprint-based secure online payments; faster Wi-Fi; loads of great apps; Siri – your helpful assistant; great call quality; and a brilliant battery life (almost 12 hours of call time).
What's hot:
A relatively cheap iPhone
Good build quality
Great OS and features
What's not:
Small screen not for everyone
Poor selfie camera
16 GB memory very small and not upgradeable
Why you should buy it: This is a fabulous smartphone as per usual from Apple and is recommended to anyone who wants a great, small-sized smartphone. The major bugbear is the lack of memory – 16 GB doesn't go far these days. But in all other respects the Apple SE provides superb value for money.