Huawei P9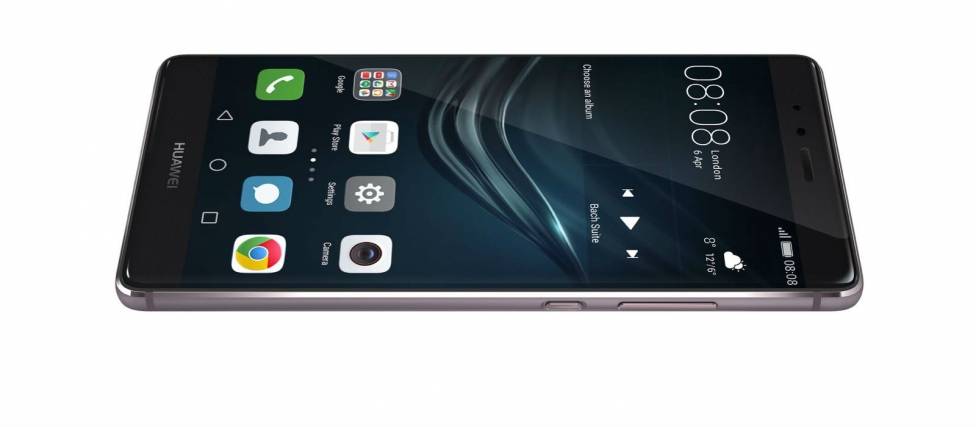 With its sleek diamond-cut edges and an additional camera lens for shooting crisp black and white photos, Huawei blends luxury with professional perks in its new flagship mobile Huawei P9.
Huawei has really upped its game in recent years. Following on from the well-made Huawei P8, the P9 has a considerably more rounded and polished look and feel, bringing together aerospace-class unibody aluminium and superior-grade glass.
The screen is an AMOLED variant that provides good contrast and crisp sharpness. The resolution is full HD which is more than sharp enough for a 5.2-inch screen, boasting 96% colour saturation and high contrast. Everything shows up clearly, even in bright sunlight.
A legendary camera brand
The camera set-up is perhaps the most innovative part of the Huawei P9. It has been developed with the high-end German camera maker Leica, and you get not one but two camera lenses on the back of the device. Working in conjunction, they provide stunningly vibrant images, whether in colour or sleek black and white, although low light conditions can lead to slightly lacklustre photos.
Leica's contribution can also be felt in the camera app, which gives the impression of being designed by someone using "real" cameras, with easy to access buttons and settings allowing you to manually control the ISO, shutter speed, and the autofocus – perfect for people who take their photographs seriously. The video quality is also high, although the P9 is not able to film in 4K resolution and there is no optical stabilisation. These are fairly significant drawbacks for anyone looking to take the best videos possible.
High performance
Huawei uses its own tailor-made processors, and the P9 has the octa-core Kirin 955 CPU which handles things smoothly. In pure benchmark tests, it's basically on a level with competitors like the Samsung Galaxy S7 and the LG G5. On the gaming side of things, it's not the quickest mobile on the market. While there aren't any noticeable issues with standard games, it can have a tougher time coping with more high-end 3D games.
The phone boasts the latest version of Android – known as Marshmallow – which is overlaid with Huawei's own user interface, called Emui. Some may find it takes some getting used to, but it does have extra options above and beyond the stock Android interface, including a totally redesigned notification centre and Settings menu. There's also no app tray, so the apps remain on the home screen. On the whole, though, the extra features exclusive to Emui will arguably outweigh the snags, and the Huawei P9 is certainly a formidable contender in the crowded phone market.