Decent model with an excellent battery and travel-friendly dual SIM feature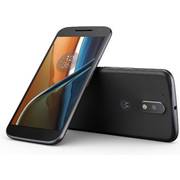 If you're scouring the UK smartphone market for an incredibly cheap model that also doesn't look like it arrived inside a Kinder Surprise – then the Motorola Moto G4 should be on your radar. The battery life is out of this world and as a dual-SIM model you can also incorporate two numbers into the one phone – perfect for travellers!
Motorola is very successfully specialising these days in affordable smartphones. The G4 may not be a top end model, but the 5.5 inch 1080p Full HD glass front provides some nicely detailed, sharp images and the curved resin back feels pleasantly solid in the hand. It's customisable too, with a variety of different colours available, front and back. A water-repellent coating means it can withstand splashing, but whatever you do don't take it swimming with you. It's not that water-repellent. The supplied microSD provides a paltry 16 GB, which isn't much if you want to listen to MP3s or do a lot of video recording. Fortunately it's easily upgraded up to 128 GB.
The octa-core processor and 2 GB of RAM ensure this is a surprisingly responsive model for everyday use. It also has a fairly decent 13 MP rear-facing camera which takes some detailed pictures and even has a flash. But the colour reproduction is far from perfect – the amateur photographers amongst you won't be ditching your digital cameras just yet. In the meantime there's also a 5 MP front-facing camera which also comes with its own set of problems, but is fine for casual use.
The sound quality through headphones is perfectly agreeable although not top-notch. But where this phone does beat the top models out there is in battery life. It can last almost 24 hours solid with constant use. Web browsing will bring that total down a bit, but you still get about 11 hours of surfing before the battery expires. It has a turbo charger to give you six hours of power in just 15 minutes too. Finally, as a dual-SIM phone you can accept and make calls from two separate numbers seamlessly. This can be useful if you have a work phone or if you travel a lot and want to use a local SIM card while away.
What's hot:
Very cheap
Incredible battery life
Dual SIM ideal for travel
What's not:
Bit bulky
16 GB insufficient storage
No supplied headphones
Why you should buy it: It's a bit bulky, but the Motorola Moto G4 is also one of the best budget phones you'll find out there. It's fast, the battery life is incredible, and it punches way above its weight feature-wise. This is great for anyone on a budget, or with its dual-SIM feature, for anyone planning on travelling abroad extensively.