The grill slightly lets the side down, but this gas cooker is still great value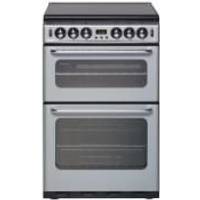 UK buyers looking for a medium to large-sized freestanding gas cooker with a separate grill - one that delivers accurate and even temperatures - should put the New World 55TSIDLm on their shortlist.
There's a lot to like about this offering from New World. You get four nicely-sized hobs, a decent 42 litre oven and a 24 litre grill compartment. The hob and oven perform with great efficiency and accuracy, making this a highly recommended piece of kit. The oven comes with three shelves (without a non-tip function – so be careful) and is fairly spacious – it should serve all but the largest families with ease, and needs very little time to preheat. It's significantly faster than the average cooker and the attractive double-glazed door looks good and retains heat brilliantly.
All the knobs are satisfyingly large and easy to manipulate and a removable lining inside makes the interior simple to clean. The 550TSIDLm looks sturdy and feels nice to the touch (especially the glass top). For the safety-minded amongst you there's a flame supervision device (FSD) that turns off the gas in the event of the flame blowing out. You also get a handy LED clock and a minute reminder with three different tones.
Cooking up sauces and baking is a pleasure, with temperatures getting up to 180 degrees within four minutes. The oven and hobs in particular deliver a quick, accurate and even heat, but the grill slightly lets the side down here. Although it's handy for making quick snacks it doesn't come with a grill handle, but even worse - it fails to cook food evenly. Toast gets a lopsided browning and wet foods will need plenty of stirring to ensure no cold parts.
What's hot:
Heats up rapidly
Even and accurate oven and hob temperatures
Easy to use
What's not:
No grill pan handle
Uneven heat from grill
Basic timer
Why you should buy it: If you're a big grill user you might want to look elsewhere, but the New World 550TSIDLm is excellent value for money and has an absolutely smashing hob and oven.