A great cooker on all fronts that's well worth the (slightly high) price tag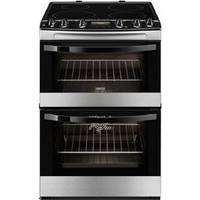 Are you on the hunt for a super freestanding electric cooker jam-packed with excellent features? It may not be the cheapest, but this induction cooker from Zanussi has been extremely popular with UK buyers - and we can see why.
With its sleek build and all manner of bells and whistles, the Zanussi ZCI68300XA seems great on paper. It's designed to spring into life quickly, and is perfect for those of you with busy lives who want to get the food on the table as quickly as possible. The induction hob in particular is extremely fast and if you've got a big family then you'll also appreciate the sizeable 74 litre capacity main oven, while the grill area doubles up as a second oven if you need to cook dessert at the same time as your roast.
The main oven is multifunctional, meaning you can cook with a range of different heat combinations. In fact there are multiple cool features to please your inner geek; with settings for rapid thawing and fast heat, a safety lock, 'Stop and Go', an electronic timer, and flexible shelf positioning. Other cool technologies include 'Therma-flow' for preventing the transfer of odours and catalytic liners - which burn off fatty deposits to keep your oven spick and span.
So, the business end; does it cook well? The short answer is yes – very well in fact. The hob heats up faster than most, twice as fast as many of its rivals, while not being 100% even in its heat distribution. In its favour it does keep a good consistent low temperature for simmering. The main oven is also pretty quick and even but struggles a bit with big, dense cakes, The temperature accuracy has been shown to underestimate the heat by a few degrees – nothing major but worth considering if you're a big baking fan. The jewel in the crown though might be the fantastic grill, whose heat source covers almost the entire cooking area, delivering an amazingly even cook.
What's hot:
Very good grill and oven
Generally very even heat distribution
Loads of useful features (such as catalytic liners)
What's not:
Hob doesn't disperse heat as well as it should
Slightly expensive
Oven struggles to penetrate dense cakes
Why you should buy it: It may set you back a few quid but this is still an excellent electric freestanding cooker, with a genuinely great oven and grill, and a decent hob.