Bosch HBA13R150B Stainless Steel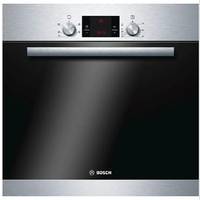 A first-rate, family-sized over that cooks superbly well and is easy to clean.
German giant Bosch is famous for its first-rate appliances, and the brand is often at the top of the wish-list for those seeking a quality integrated oven. Typically sleek and stylish, the built-in Bosch HBA13R150B boasts a user-friendly design and superior performance, with the added bonus of being A-rated when it comes to energy efficiency. A single door oven with a capacity of 67 litres, it's a fantastic option for average-sized households.
It wouldn't be right to talk about a Bosch product without mentioning its polished good looks first. Finished in shiny stainless steel, the HBA13R150B will look the business in anyone's kitchen, particularly if it's already decked out with other silver-toned appliances. The built-in beauty features a fuss-free façade, with two rotary controls, a stylish LCD screen, and a heat reflective glass window for safety. While it's an integrated model, it still oozes the cool and sophisticated style the brand is known for. Of course, it's really what's on the inside that counts. The HBA13R150B's interior features two adjustable wire shelves, which can easily be arranged across any one of the five shelf positions. It's also lined with an easy-clean enamel, turning one of the most tedious domestic tasks into an absolute breeze.
One thing that defines the HBA13R150B is how easy it is to use. Its simple controls operate four cooking functions, which provide the optimum heating conditions for different things. There's a defrost mode, useful for Christmas turkeys, a full width variable grill and hot air grilling settings, as well as the 3D Hotair function too. In the majority of cooking situations it'll be the 3D Hotair mode you'll use the most, and the clever technology behind it is in a league of its own. Bosch's 3D Hotair works by utilizing fan power and optimized air outlets to control exactly where the heat is being delivered and circulated. The result is evenly cooked food every single time, regardless of where in the oven you placed it.
Whilst the user-friendly Bosch HBA13R150B doesn't make things complicated with unnecessary bells and whistles, you can still expect all the useful bog-standard features that make an oven pleasant to use. Among them there's an electronic clock timer and an automatic on/off programmer, as well as control panel lock – useful if you've got kids or a partner that likes to push your buttons.
What's hot:
Sleek, functional design
Delectable performance
Handy features
What's not:
Difficult to read temperatures
Dials sensitive and not that easy to use
No grill handle
Why you should buy it: This large capacity oven is great for bigger households and is also super-easy to clean. The unique fan system ensures food is evenly cooked on every shelf, with no flavour transfer between different foods. This stylish Bosch is a great performer and well worth a look.