Labour-saving to the extreme, this stylish, high-performing oven takes some beating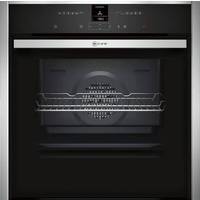 If you've just been paid and want to get your hands on a single built-in oven that cooks and grills effectively, in no time at all, and comes with some fantastic labour-saving features, then you might want to consider the outstanding Neff B57CR22N0B.
This is a beautifully-designed stainless steel built-in oven that will have you drooling before the food is even out of the shopping bags. It comes with measurements of 59.6 cm (H) x 59.5 cm (W) x 54.8 cm (D) and a capacity of 71 litres over three shelves – big enough for some serious bakes. As a built-in model it can either slide under a counter or go at eye level if your integrated kitchen allows. It has some really nice features that give this oven a proper high-end feel. You can't help but be enthralled by its 'slide & hide' door. In one fluid motion the front door gently opens and disappears into a recess, granting easy access to the oven cavity.
The pyrolytic cleaning function will please anyone who hates oven cleaning. At the push of a button it ingeniously burns away grease and other food particles to an easy-to-manage pile of ash. There's also a brilliant steam-cleaning option that helps shift any lingering dirt.
Happily, the performance of the B57CR22N0B matches its stylish design. It reaches your desired temperature in no time and then keeps it there highly effectively. Neff's CircoTherm technology circulates air nicely through the oven keeping temperatures even across all the shelves and removing odour and flavour transfer. The grill is flawless and there are many different programme selections, programmable timer settings, and other great features that will take too long to go into – including a cooling fan to quickly bring down the oven temperature; a bread baking setting; a dough proving function; a child safety lock; eco-functions for improving efficiency; and even a Sabbath mode for those of the Hebrew faith. It really does have it all.
What's hot:
Cooks quickly and to perfection
Beautiful stylish design
Heaving with great features
What's not:
Pricey
Requires separate accessory for steam clean function
Some users find it complicated to use
––Why you should buy it:__ If you enjoy cooking, but can't stand cleaning then this oven could have your name on it. There aren't many ovens out there in the UK today that can match its cooking performance and high degree of labour-saving tech.