KitchenAid Artisan 150-156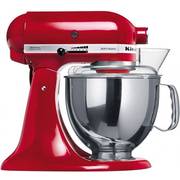 A good-looking, timeless classic that's fast, efficient and a joy to use.
The MacBook Pro Retina 2.2GHz from Apple is a fast and powerful computer that sits right at the top of the pantheon of great laptops. Although an absolute beast, it's still light and elegant, and UK buyers would be advised to check it out if you're in the hunt for a new laptop.
The Apple MacBook Pro, with its updated 2.2GHz processor performance – a significant improvement on previous models – can handle even the heaviest of games and tasks without 'hanging' or juddering. With its Core i7 processor, you can be sure that even the most frenetic multitasking will still leave waiting times reduced to a bare minimum. Although the Apple MacBook Pro Retina 2.2GHz is strong and powerful, it retains the familiar elegance that Apple have made their trademark. For example, housed within a gorgeous brushed aluminium body you'll find its much-heralded Retina display. Ensuring razor sharp images and videos, it's a screen of incomparable beauty. This slimline MacBook Pro has more than 5 million pixels packed into its 15" screen - that's more than most HD TVs and is a guarantee of striking lifelike picture quality. When you read emails or articles they look so sharp you'll feel like you're reading it on print paper.
On a single charge this powerful Apple MacBook Pro Retina genuinely lasts up to 8 hours of solid use; an impressive achievement for any notebook computer, let alone such a high-performance machine that's this thin and light. On standby the MacBook will last up to a staggering 30 days on a single charge.
The MacBook Pro Retina comes with the operating system Mac OS X. This means that you get all the programs needed for work, school, or play. You can edit and view your images in iPhoto. You can watch the latest movies on the stunning Retina display in iMovie. And you can talk to your friends and family in high resolution using FaceTime. The MacBook Pro Retina is equipped with the latest Wi-Fi and Bluetooth technologies, enabling you to enjoy the Internet at higher speeds than ever before. With AirPlay and Apple TV, you can mirror your screen wirelessly to your TV to play movies or view photos. And when you just need to surf the web, your Mac will optimize your Wi-Fi router to always deliver the highest possible browsing speeds.
What's hot:
Beautiful, high-quality display
Fast performance
Good battery life
What's not:
Battery can't be removed or replaced
Internal storage cannot be upgraded by the end user
Expensive
Why you should buy it: This is an absolute joy to use, one of the greatest laptops ever designed, and comes highly recommended.