Slimline, eco-friendly and feature-packed, but watermarks can be an issue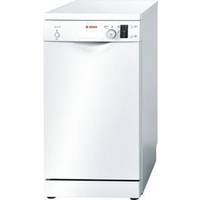 The Bosch SPS40E12GB is a slimline, freestanding dishwasher that cleans and dries well, packs in some useful features, and has a great energy rating to help the environment and save you a few pounds in the process.
With 9 place settings – covering roughly 90 items – this isn't the largest machine on the market and will be perfect for small families or those who are tight for space. There are five programmes, with the default setting being its penny-saving eco-option. The settings go from a rapid wash for those in a rush, to an intensive hot wash for shifting particularly crusty stains on pots and pans.
There are quite a few additional cool features on show, such as AquaSensor which uses light beams to detect the degree of soiling on your dishes and adjusts the water usage accordingly. Or there's VarioSpeed, which allows you to halve the rinse time if you're in a rush to finish the cycle. With flood-protection, self-cleaning filters, an LCD display, adjustable baskets, a countdown timer and a 24-hour delay feature – you've got all the bases covered.
The SPS40E12GB cleans well but it must be said there are quite a few watermarks left behind. Its drying capabilities are superb however, and all your items are returned completely moisture-free and ready to pack away without the need of a quick wipe. The noise levels are broadly average and shouldn't keep even the lightest sleepers awake. Finally, slimline dishwashers don't have a great reputation for being energy efficient but this model thankfully goes against the grain, using less water and electricity than many of its closest rivals; you should make significant savings through the course of the year.
What's hot:
Good cleaning and great drying
A ++ Energy Rating
Pretty quiet
What's not:
Watermarks evident
Difficult to access / load
Quite small
Why you should buy it: UK buyers who want a slimline model packed with features, is energy efficient and able to clean and dry well should look no further. But if watermarks are a deal breaker for you, you'll need to keep looking.