Slimline and feature-filled, this Bosch is a very decent washer and drier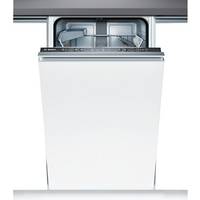 The Bosch SPV40C10GB is an integrated slimline dishwasher with a great energy rating, oodles of features, and cleans and dries to great effect. It's a little noisy at times, but overall this is a tidy piece of kit.
A fully-integrated dishwasher, if you weren't sure, is a machine designed to be hidden away behind a cupboard as part of your integrated kitchen plan. The SPV40C10GB is also slimline, making it perfect for those tight for space. It can nevertheless fit 90 items per cycle (or nine place settings) and may be streamlined in size but certainly not in the features department. You'll find four programmes, from a quick wash, an intensive cycle, to an eco-option that uses less water (and saves you pennies). There's also a pre-rinse setting for particularly tough stains. If you start your cycle and realise you're in a hurry there's VarioSpeed to slash your rinse times in half. There's a useful heat exchanger to protect delicate glass from rapid temperature change, a child safety lock, a delay timer, adjustable-height baskets, light beams to detect how dirty your dishes are and regulate water use accordingly, and much more besides.
Most importantly, this model knows how to clean and dry properly – with no watermarks. All your dishes and cutlery are returned spick and span and dry – ready to be popped back into the drawers and cupboards without so much as needing a wipe of a cloth. The energy efficiency is great – you'll see real savings over time.
A slight chink in the armour is the above-average clanking and sloshing sounds generated by this machine, and also the fact that the rack and baskets don't seem to hold everything in place as they're supposed to. Apart from these minor irritations this is a cracking dishwasher.
What's hot:
Cleans and dries very well
Packed with features
A + Energy Efficiency Rating
What's not:
Quite loud
Poorly designed rack
Stiff buttons
Why you should buy it: UK buyers looking for an energy-efficient, slimline, integrated dishwasher that cleans and dries brilliantly but makes a bit of noise, look no further. This is a very decent dishwasher despite its flaws.