A fully-integrated force to be reckoned with in the dishwasher world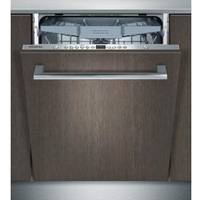 The Siemens SN66L080GB is a fully integrated dishwasher that cleans and dries to perfection. It comes with tons of great features and has an extremely efficient energy rating. UK buyers should be rubbing their hands in anticipation at the prospect of buying one of these.
For the uninitiated "fully integrated" means it's supposed to be hidden in the kitchen behind a cabinet door. This is a brilliantly effective model packed with incredible technology. It comes with 13 place settings to cover 130 items and has height adjustable baskets to fit every conceivable shape. It has a VarioSpeed option which washes three times faster than conventional dishwashers and self-cleaning filters and sensors to detect and rinse away any trace of food they detect.
An ingenious auto programme senses the level of dirt on your dishes and adjusts the water and energy consumption accordingly. If you're worried about particularly hard-to-shift food particles – perhaps on some pots or pans - the IntensiveZone setting will ensure even the toughest stains are removed. In all there are six different programmes and also a 24-hour delay timer if you want to save your cycle for bedtime (perhaps to take advantage of cheaper electricity tariffs).
Most importantly, Siemens have come up with a model that cleans and dries with absolute flawlessness. Even plastics are given a good once over to awesome effect. Finally, this may not be the quietest dishwasher – with a bit of swilling and whooshing clearly in evidence – but it's by no means the worst.
What's hot:
Excellent cleaning and drying
A ++ Energy Rating
No water marks
What's not:
Difficult to open door sometimes
No child safety lock
Upper rack can get heavy
Why you should buy it: This is an exceptionally good dishwasher that does what it says on the tin and then some. We believe that the good outweighs the bad so overwhelmingly that you'd be crazy not to consider this model.