Hotpoint BHWM1292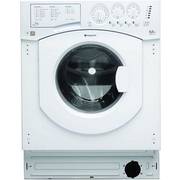 Does most things well, apart from rinsing, but is also good for allergy sufferers.
If you're after an inexpensive, extremely quiet, integrated washing machine that cleans and spins well, then you should bung the Hotpoint BHWM1292 on your shortlist.
For the uninitiated, an 'integrated' appliance is intended to be built into your kitchen or bathroom design, and is usually hidden behind a cupboard door. This particular model from Hotpoint has outer dimensions of 82 cm (H) x 59.5 cm (W) x 55 cm (D) and a load capacity of 7 kg, making it suitable for a medium-sized household. It's got a slightly frustrating door with a slippery handle and narrow aperture for loading, but otherwise the design is solid. There are 16 programmes in total, covering a half-hour quick wash, cottons, delicates, economy, mixed loads, synthetics, wools, and so on. There's also an excellent anti-allergen cycle that utilises a mix of high-temperatures and rinsing to combat allergens, earning it a seal of approval from Allergy UK.
The spin cycle has a top speed of 1200 rpm, but this can be adjusted by dial if you prefer a gentler spin. The BHWM1292 is a super-silent model that uses magnetic forces to drive the motor rather than brushes, making this ideal for night use (to take advantage of cheaper energy). They've missed a trick not having a delay timer to push the programme back for this purpose though.
The A-rated wash cycle performs admirably, and you can be sure your load will emerge about as clean and stain-free as it could get. The B-rated spin cycle is more than adequate, leaving just 53% moisture in your fabrics. The rinsing is disappointing though, and you'll probably need to select some extra rinses to fully remove detergent from your wash. This Hotpoint has an energy rating of A ++ and you won't find inordinately high bills at the end of each quarter. Finally, as mentioned before, this is a satisfyingly quiet machine with a wash cycle noise of 42 dB and a spin cycle noise of just 65 dB, meaning you'll never need to shout over it.
What's hot:
Cleans well
Good spin
Very quiet
What's not:
Inadequate rinsing
Door hard to open
Small opening
Why you should buy it: This is a pretty decent model. It's quiet, good for allergy sufferers – only if you choose the allergy programme though – and washes and spins very effectively. It's only really let down by poor rinsing.