Zanussi ZWF71463W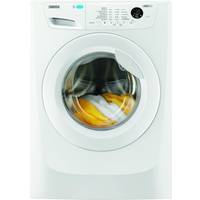 No prizewinner, but does the basics well and is a great buy for the price.
The Zanussi ZWF71463W is a reasonably-priced freestanding washing machine. It may not be endowed with a full complement of bells and whistles, but sticks to the basics with great success. UK buyers would be well advised to give this model a go.
This is a suitable machine for a medium-sized household, with dimensions of 85 cm (H) x 60 cm (W) x 52 cm (D) and a maximum load capacity of 7 kg. It's built with a nice wide door for easy access and there are 21 programmes in all, including a 30 minutes at 30 degree quick wash, an intensive programme for hard-to-shift stains, a cotton programme, a cotton economy programme, and options for synthetics, delicates and so on. There's also the facility to tailor your own programmes, granting the user a fantastic degree of flexibility to set his or her own temperatures and spin speeds. There's even a 'finish in' function to tell your machine when to stop, giving you even further levels of control. AquaFall technology ensures an even circulation of detergent, while PowerJet technology gives your detergent tray a comprehensive blasting to guarantee no traces of powder left behind. Finally, there's a panel lock to prevent wandering hands mucking up your settings.
The ZWF71463W washes remarkably well, removing stains as successfully as the wash cycle's A-rating suggests. The B-rated spin cycle is also excellent, delivering dryer than average fabrics, ready for the clothes line or tumble-dryer. And the rinsing capability of this machine is also pleasantly thorough – leaving not so much as a trace of detergent in your fabrics. However, the price for these great results comes in a much slower than average washing time. And despite an A +++ energy rating this model is marginally more wasteful with water and electricity than similar machines.
Finally, the washing cycle is moderately quiet at 58 dB but at 78 dB, according to the decibel comparison charts, the spin cycle is louder than the noise generated by a motorway from 50ft.
What's hot:
Washes and rinses well
Good spinning power
Versatile programmes
What's not:
Noisy spin cycle
Slow wash times
Limited features
Why you should buy it: This is a cracking freestanding washing machine that does the basics thoroughly well, but has a bit more tortoise than hare about it. A noisy tortoise at that. But it's also relatively inexpensive and versatile and gets a big thumbs up from us.