Bosch WAQ283S1GB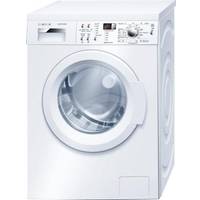 An energy-efficient Bosch machine that cleans well and has a useful 15 minute cycle.
When you think of Bosch appliances, you think of quality – and for those seeking a new washing machine, the German brand is popular choice. Coming in at under £500, the Bosch WAQ283S1GB is one of the more affordable models, and offers superb performance and plenty of features. Finished in clean white, the freestanding machine also boasts an energy efficiency rating of A+++, and is specially developed for allergy sufferers.
While its sleek exterior is all very nice, it's the machine's inner workings that are really impressive. The WAQ283S1GB's 58 litre drum is kitted out with Bosch's ActiveWater Plus technology – a clever water management system that uses sensors to control the amount of water in the drum. It works according to fabric types and weight, providing just the right amount of water to clean clothes perfectly, without wasting a litre. What's more, it also ensures that water flows into the drum in such a way that fabrics are soaked more quickly and evenly. The WAQ28S1GB is also fitted with Bosch's energy efficient EcoSilence Drive motor. As well as keeping things energy efficient, the motor utilizes magnets instead of brushes to ensure the machine remains nice and quiet during cycles. There's a self-cleaning detergent drawer too, making the machine particularly low-maintenance.
When it comes to washing machines, good programmes make all the difference – and the Bosch WAQ283S1GB provides something for every frock and sock. The programmes are operated via the machine's electric dial and touch control buttons, and include cycles for mixed laundry, jeans, rinsing, spinning, and delicates. There's also a reduced ironing option, a spin speed reduction option, and a start delay to boot.The Machine's VarioPerfect technology is another feature that makes life easier. While preparing your programme you can opt to use SpeedPerfect, which washes your clothes in an hour, or EcoPerfect, which maximizes the machine's energy efficiency. Both options produce the same fantastic results, but work around your schedule and priorities.
Have you ever been planning a fancy evening out and realized the outfit you intended to wear is dirty in your laundry basket? That's where the WAQ28351GB's SuperQuick 15 programme comes into play. While most washing machines offer a fast wash option, not many of them can get the job done in just 15 minutes. It'll only work on 2 kg of lightly soiled laundry, but the programme can be a real lifesaver for last-minute washes – especially if you've got kids and teenagers.
What's hot:
Top-notch technology
User-friendly programmes
SuperQuick 15 programme very useful
What's not:
Can be noisy
No spin-only cycle
Some programmes take a long time
Why you should buy it: With an 8kg drum capacity and quick 15 cycle, this is ideal for a medium-sized household. It performs well, and given its excellent energy-efficiency rating is especially good for the price.