Indesit XWSC 61251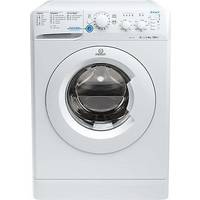 This is an average performer, but it spins well and suits the budget-conscious.
If you're in the market for an absolutely dirt-cheap freestanding washing machine for a small household, then you shouldn't ignore the merits of the Indesit XWSC-61251 W.
This is quite a slimline model with outer measurements of 85 cm (H) x 59.5 cm (W) x 42.5 cm (D) and it has a maximum load capacity of 6 kg – making it appropriate for the smaller household. It could do with a slightly bigger door, as access isn't straightforward – especially if you have your arms loaded with laundry. It comes with 16 different wash programmes, including a silk and curtains programme, a sports programme, an option for delicates, and a special 'sports light' programme. You also get a useful anti-odour function – perfect for that sweaty gym kit. There's overflow protection; an LED to display the stage of your washing cycle; and an extra rinse option to ensure every last trace of detergent has been washed away. For the forgetful amongst you there's also a quick wash function if you suddenly realise you've got no clean underwear and you're running late for work.
Despite having an A-rating for its wash performance and a B-rating for its spin performance – putting it on a par with a lot of vastly superior models – this isn't a machine to write home about. There's nothing particularly wrong with it, but there's nothing particularly outstanding either. To be fair it does excel at washing synthetic materials, leaving them sparkling clean and well spun for the clothes line or dryer. It's relatively energy efficient, no more than average though.
Finally, it generates 61 dB while washing and an ear-splitting 84 dB during its spin cycle. This last figure is the decibel equivalent to a diesel truck passing by at 40 mph.
What's hot:
Cheap as chips
Synthetics programme great
Spins well
What's not:
Makes a racket
Average performance all round
Door could be bigger
Why you should buy it: Loud spin cycle apart, there's nothing hugely wrong with this offering from Indesit – it's just not hugely inspiring. If you're on a budget then its low UK price right now may appeal.