Bosch WAE24377GB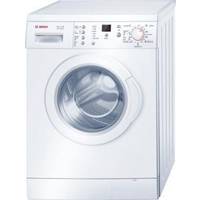 Cleans and spins well, but poor rinsing could be an issue for sensitive skin.
The Bosch WAE24377GB is a versatile freestanding washing machine that will clean and spin well, while not costing the Earth. UK buyers might want to cast their eyes in its direction.
This offering from Bosch has outer dimensions of 84.8 cm (H) x 60 cm (W) x 59 cm (D) and a 7 kg capacity. It comes with 15 easily-set programmes that range from the usual cottons and acrylics, to some special options such as: 'Super Quick 15' for a rapid 15 minute wash; 'Mixed Load'; wool and hand washed items; and a 'Delicates 30°C' programme. There's also a useful VarioPerfect function allowing you to choose between speed or energy efficiency. SpeedPerfect cuts washing times by 65%, or you can opt for EcoPerfect and slash energy usage by as much as 50%. In addition there is a reduced creasing option, a timer delay, Aqua Plus to improve rinsing, a reload option if you want to add an item in once the cycle has already started, and spin speed choice.
The washing capability of this machine is decent, with an A-rating for performance, although it's pretty average with cottons. The spin cycle is B-rated and your fabrics will come out with just 53% moisture retention, meaning the tumble dryer will have less work to do. The rinsing capability of this model is disappointing though, and traces of detergent are likely to emerge in your freshly-washed clothing.
The A +++ rating means your bills should be kept low while doing your bit for the environment. Finally, the wash cycle generates a tolerable 59 dB of noise, while the spin cycle produces a slightly less bearable 77 dB.
What's hot:
Great washing power
Effective spin cycle
Versatile options
What's not:
Pretty bad rinsing
Ear-piercing spin
Could do better with cottons
Why you should buy it: Those with sensitive skin should probably give this a miss, but if you want a machine that cleans and spins effectively, with some good eco options, then the Bosch WAE24377GB isn't a bad shout.