Bosch WVG30461GB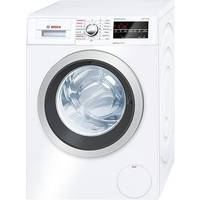 A top-quality family dryer with a good range of programmes and features.
Bosch certainly know a thing or two when it comes to creating washer-dryers, and the Bosch WVG30461GB is a case in point. This free-standing appliance certainly looks smart, with its gleaming white façade and large LED display which gives you all the info you need at a glance. It's also got an A efficiency rating, a whopping 1500 rpm spin speed, and a range of programmes which should suit every conceivable washing and drying requirement.
This washer-dryer has a generous 8 kg capacity for washes, and 5 kg capacity for drying. That's more than enough for a couple, and just right for a family. It also knows what it's doing – the AutoDry function means that freshly-washed clothes will be given the exact right amount of drying time according to your requirements, while the SoftSurge drum has been specially designed to switch from gentle to vigorous washing. On top of that, the AquaSpa system lets water cascade more efficiently and thoroughly, maximising the power of every wash.
The Bosch WVG30461GB has programmes a-plenty. Using the large dial and LED screen, you can set it to right washing specification for every load. Have sensitive skin issues? Pick the Allergy+ programme so the machine washes away 99.9% of potential allergens. There's also the HygieneCare programme which subjects fabrics to a high temperature pre-treatment, along with additional settings for delicates, mixed loads and fluff removal. And don't worry if you drop a pair of pants on the way to the machine without realising it – the reload function lets you quickly stop the wash and add any errant items.
The Bosch WVG30461GB has yet more tricks up its sleeve. It has VarioPerfect technology, which means you can choose to shorten or lengthen the washing times depending on how much energy you're willing to consume. The SpeedPerfect setting also lets you get washing done in a jiffy – ideal if you need that shirt ready for a big night out. The machine also has an EcoSilence Drive, which employs special magnets to rotate around the motor. This basically means a slicker operation that's also considerably quieter, which is a huge bonus if you happen to have an open-plan kitchen and living room, or a smaller abode.
What's hot:
Roomy and intelligent
Plenty of programmes
Exemplary extras
What's not:
Some programmes a little long
Some users find it complicated
Some dissatisfaction with drying times
Why you should buy it: This decent-sized machine is perfectly suited to the family household, and the 15 minute cycle is ideal for those items that the kids need today and haven't put in the wash basket! It's super quiet and gives brilliant results. A lovely machine that's well worth adding to the shortlist.