Samsung WW80J6410CW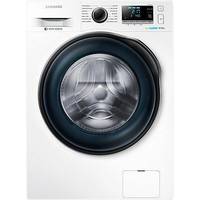 Effective, energy efficient and inexpensive - a superb freestanding machine.
This is an 'entry level' freestanding washing machine from big hitter Samsung, packed with great features and programmes. If you're looking for an effective wash and a machine overflowing with futuristic tech, the WW80J6410CWEU should be on your Christmas list.
With measurements of 85 cm (H) x 60 cm (W) x 55 cm (D) and a maximum load of 8 kg, this is suitably sized for a medium to large household. It has a slightly restrictive door aperture, making loading and unloading a bit fiddly at times, while inside the gently-textured drum is designed to provide extra care for your fabrics. There's a pleasant blue LED display and 14 different programmes covering wools, delicates, cotton, quick wash and so on. The display lets you keep tabs on the time remaining of your cycle, as well as giving you some extra rinse options, and there's a top spin speed of 1,400 rpm.
The EcoWash option with Ecobubble promises to reduce electricity usage by using cooler water and a technology that pumps detergent through fabrics. There's also a Smart Check smartphone app that allows you to send digital diagnostic reports to Samsung for instant analysis in the event of something going wrong. This might just save you an engineer call-out fee. There's also a delay timer and a handy stain removal option.
The WW80J6410CWEU washes with exceptionally good results. It removes stains effortlessly, rinses well, and leaves your clothes perfectly washed and clean. The spin cycle is also absolutely unbeatable and leaves your fabrics ready for a nice short stint with the tumble dryer or clothes line. The results are a fair reflection of this model's A ratings for both wash and spin performance. It's not the quickest machine by any stretch of the imagination, but it's effective and quiet, with noise levels of 53 dB during the wash cycle and 74 dB during the spin cycle. Finally, with an A +++ energy efficiency rating and the excellent Super Eco programme, you'll do your bit for the environment while trimming the electricity bill in no time.
What's hot:
Washes well
Relatively inexpensive
Great energy efficiency options
What's not:
Not especially quick
Excessive water use
Slightly small opening
Why you should buy it: The Samsung WW80J6410CWEU delivers a genuinely outstanding wash and spin performance, on a par with much more expensive models. It may be a bit slow, but the results are there for all to see. UK buyers would be wise to give this serious thought.