Miele WDA111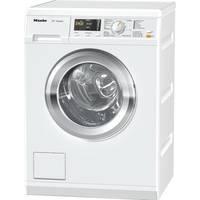 A quiet, energy-efficient machine that performs with the best of them.
The Miele WDA111 is an environmentally sound and user friendly washing machine that performs exceptionally well. If you're looking for a new washing machine in the UK, the Miele WDA111 is a worthy contender.
With a top A +++ energy efficiency rating, the WDA111 is one of the most cost-efficient and environmentally-friendly machines on the market. It consumes very little power and water, and is also a simple yet fantastic machine that's extremely easy to operate. It has a maximum storage capacity of 7 kg, making this perfect for a medium-sized household.
The washing machine drum is specifically designed with a honeycomb surface to be as kind to your clothes as possible, reducing unnecessary wear on your fabrics. The A rating for the washing performance is testament to the great washing power of this machine. Meanwhile the spin cycle of up to 1400 rpm leaves your clothes with just 52% moisture retention, making them as dry as can be before going on the clothes line or into your separate tumble dryer.
The auto program selector is a simple dial and you'll find there are 10 washing options and a very fast program for washing in just 20 minutes. You'll find the usual options: cotton wash, dark wash, an option for delicates, a wool wash, an economy wash, and an easy-iron function that leaves extra moisture in your clothes - ready for the ironing board. Another feature of this washing machine is its display where you can continuously monitor the remaining washing time, while it also comes with an automatic load recognition feature and an 'auto clean' dispenser drawer to remove any last trace of detergent from the drawer. It's also reasonably quiet with just 52 dB of noise during the washing cycle and 76 dB during the spin cycle.
What's hot:
Easy to use
Excellent wash performance
Quiet
What's not:
Average wash performance
Door a little small
Expensive
Why you should buy it: The Miele WDA111 is a very intuitive and environmentally-friendly washing machine that washes and spins to perfection. Well worth a look!