Bosch WAT24420GB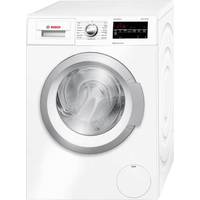 A fantastic, good-sized machine that cleans and spins extremely well.
This a sterling effort from Bosch. If you're looking for an amply-sized freestanding washing machine which is not just kind to the environment, but a super-effective cleaner, then you need to check out the Bosch WAT24420GB.
This machine has outer measurements of 84.8 cm (H) x 59.8 cm (W) x 55 cm (D), a maximum load capacity of 8 kg – sufficient for medium to large household, and a nice wide door for easy access. It has a maximum spin speed of 1200 rpm and a tidy LED display to let you check on the progress of your cycle. This Bosch comes packed to the gills with technology and features. It has 16 programmes covering the usual cottons, sports clothes, wools, and duvets. But it also has a quick wash for those in a hurry, a shirt cycle, an extra quiet night cycle, and options to choose a more energy-consuming fast cycle, or an energy-saving slower cycle.
You'll find the following excellent features: a start delay to push back your programme by up to 24 hours (e.g. if you wish to take advantage of cheap night electricity rates); 3D Aqua Spa to flow bubbles through your wash to protect clothes and deliver a superior clean; ActiveWater Plus for detecting load sizes to determine water levels and lower your utility bills; a drum cleaning option; an EcoPerfect energy efficient cycle; a reload option if you start a cycle and realise you've forgotten to include an item; and much more.
Crucially, this Bosch cleans brilliantly, with an A-rated wash performance. Your fabrics will look fabulous and with a quickfire B-rated spin performance they'll emerge in no time with just 53% water remaining, ready to hang on a clothes line or be flung in a dryer. The A +++ energy rating is as good as it gets and the noise generated is a tranquil 51 dB while washing, but a less peaceful 74 dB while spinning.
What's hot:
Cleans very well
Good spin performance
Quiet wash cycle
What's not:
Slow cotton cycle
Average rinsing
Spin cycle is on the noisier side
Why you should buy it: UK buyers would be foolish not to consider the charms of this excellent washing machine. It cleans and spins extremely well, has bags of great features, and comes highly recommended all round.