Cheap to buy and run, this quiet fridge freezer does the basics well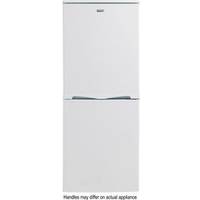 The Lec T5039W is relatively compact fridge freezer with a TARDIS-like spacious internal capacity and an A + energy efficiency rating. It's a fairly basic, budget model that nevertheless freezes and chills well and should be on the radar of any UK buyer hunting for a bargain.
This slimline model has dimensions of 122.5 cm (H) x 50 cm (W) x 54 cm (D) and a capacity of 135 litres. The interior shelving design is quite smart, with three solid glass shelves in the fridge, clever fridge door storage, ice cube trays, a salad crisper and a shelf for bottles. The fridge has storage of 90 litres while the freezer has 45 litres – so this model is best for those of you that prefer your food fresh. As a budget model you wouldn't it expect it to contain a glittering assortment of eye-catching gizmos and it is missing items such as a temperature alert, fast freezing, or a frost-free function (meaning you'll have to manually defrost it). But at least you get a reversible door and an egg tray! Also, if you find yourself at the mercy of a power cut, you have a mere five hours to fix your electricity situation before your food will start to turn – well below average.
The T5039W is a solid performer when it comes to chilling and freezing. The freezer has a four-star rating, meaning you can freeze items for up to 12 months. It may not be the quickest fridge freezer, but it's effective and well insulated against environmental heat – it can cope with outside temperatures up to 38 degrees centigrade. But this is definitely one to keep in the kitchen rather than the garage, as it will struggle with temperatures below 18 degrees.
This is also a pretty cheap fridge to run, with an A + energy rating. Finally, it produces noise levels of 40 decibels, which is roughly the sound generated by a public library and compares favourably with similar models.
What's hot:
Inexpensive to buy and run
Freezes and chills well
Quiet
What's not:
Not a lot of features
Power failure safe storage of just 5 hours
Needs manually defrosting
Why you should buy it: The Lec T5039W is a decent little budget fridge freezer. While it lacks a lot of fancy features, it performs its primary function of chilling and freezing very well - and it won't cost the earth to run.