Good fridge with some great features, but the freezer fails to deliver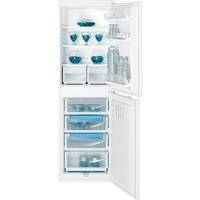 The Indesit CAA55 is an inexpensive freestanding fridge freezer with a couple of useful features – such as fast freeze – but isn't the most powerful machine out there.
This Indesit model has outer dimensions of 174 cm (H) x 54.5 cm (W) x 58 cm (D) and an internal capacity of 235 litres. The fridge has three shelves (two adjustable), three door racks and a couple of crisper compartments for your softer fruits and vegetables. Down below you've got four freezer compartments behind vaguely transparent doors. There's bottle storage in the door, an egg holder and an ice cube tray. In terms of features the fridge itself is frost-free, although sadly the freezer isn't – you'll need to periodically defrost it manually. There's antibacterial protection; power failure safe storage of 13 hours, which is below average; and a fast freeze option for rapidly freezing your items after the supermarket run.
When it comes to the business end of chilling and freezing, the results for the CAA55 are mixed. Both fridge and freezer are insulated well and can cope with kitchen temperatures approaching 43 degrees centigrade – and both maintain nice even temperatures throughout. The fridge chills quite nicely but slowly – taking an above average time to get down to 5 degrees centigrade. The freezer is the real let down. Although being advertised as having "fast freeze", in reality it can only cope with 2 kg at a time of fresh food – roughly the weight of a brick or two litres of milk – making the feature somewhat pointless.
Finally, the decibel levels of this fridge freezer are about average and the A + energy rating shows that by buying this model you're doing your bit for the environment while saving a few pennies for a rainy day.
What's hot:
Good fridge
Well insulated
Evenly chilled across the shelves
What's not:
Lacking freezing power
Inaccurate thermostat
Manual defrosting required
Why you should buy it: UK buyers looking for a cheap fridge freezer that has a couple of nifty features, is well insulated and has a decent energy rating might want to give this a look. But be warned that the freezing power is seriously deficient.