The fridge is decent, but the freezer isn't. Cheap price tag, though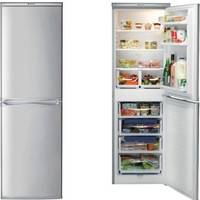 If you're looking for a cheap as chips fridge freezer in the UK, one which has a pretty decent fridge and a couple of appealing features, then the Hotpoint RFAA52S might give you pause for thought.
The Hotpoint RFAA52S is the silver version of this model. It comes in a pretty large size - 174 cm (H) x 54.5 cm (W) x 58 cm (D) – which should be sufficient for a family of four. The fridge has a sizeable 150 litres of space while the freezer has a capacity of 85 litres. The interior looks decent enough, with some nicely designed shelves - four in the freezer and two in the fridge. You've got some deep holders in the fridge door to stop bottles and jars sliding about, a covered door rack and two fruit and vegetable boxes. Hotpoint's Ice Care feature is an integrated ice tray that slides out like a drawer, and you'll also find a rapid freezing compartment in which to quickly throw thawing items from your recent shop.
You're unlikely to notice your fridge's chilling ability – which is always a sign that it's working well. It's not the quickest but it keeps your temperatures low even if you're in the middle of a raging heatwave. Unfortunately we can't say the same for the freezer, which is so lacking in power it can only effectively freeze 1.5kg at a time. This means if shoppers want to successfully freeze food they need to spread their shopping out through the week as much as possible – not very practical for most.
The thermostat is apparently inaccurate so bear that in mind – you will need to purchase an additional fridge thermometer to be sure of your temperatures. If there's a power cut you've got just 13 hours to fix the problem before your food starts to spoil, while it's worth noting this model generates 44 decibels of noise – which is getting above average. Finally, the A + energy rating is a bit misleading as this fridge actually guzzles power – so although the cheap price tag might be tempting, you could pay for it in the long run.
What's hot:
Keeps temperatures stable
Cheap as chips
The fridge functions well
What's not:
Poor thermostat readings
Very poor freezer power
Uses too much electricity
Why you should buy it: Unfortunately it's hard to give the Hotpoint RFAA52S the thumbs up, as the freezer is just too feeble. There are worse models out there and you may find the price tag combined with the hefty size too good to ignore, but you can't say you haven't been warned.