This frost-free American-style fridge-freezer is the boss at chilling and freezing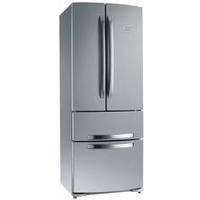 The Hotpoint FFU4DX is an elegantly designed, frost-free American-style fridge freezer. It's packed with features, has a gargantuan storage capacity, and freezes with the very best. UK buyers might want to give this one a look.
Like many things American, the FFU4DX is pretty big; 195.5 cm (H) x 70 cm (W) x 74 cm (D) with a storage space of 425 litres. This is more than sufficient for even the largest of families, but is actually considered slimline by US fridge-freezer standards. The fridge on its own has a net capacity of 314 litres and contains a few nice design touches - including a humidity controller for keeping fruit and vegetables fresh for longer, and a nice arrangement of four drawers and inner door racks to neatly house all your shopping items. The door racks are well organised and keep your bottles and jars firmly in place with no rattling.
The freezer consists of two drawers and as it's frost-free you'll never need to manually defrost. There are a number of excellent functions such as the chiller compartment for meat and fish; a fast freeze option for rapidly cooling a fresh load from the supermarket; a holiday setting to save money while you're away; an intelligent setting that detects your fridge's content and sets the temperature accordingly; and anti-bacterial protection. It will also keep your food fresh for 18 hours in the event of a power cut – ample time for the electricity board to get the power up and running before your food spoils. The only thing that's missing is a temperature warning light.
The other great bit of news is that the Hotpoint FFU4DX freezes and chills to perfection. It's an incredibly powerful model that acts fast and keeps temperatures at your desired level even in the face of extreme kitchen heat. It is without doubt well above average in this regard – but it does come at a price. Despite the A + energy rating it is, again, like many things American, a bit of an energy guzzler. It will cost more to run than similarly-sized fridges. Finally, generating 45 decibels of noise, this is a bit louder than some of its rivals.
What's hot:
Freezes exceptionally well
Nicely designed with great features
No manual defrosting
What's not:
Pricey to run
No temperature warning light
Above average noise
Why you should buy it: At the risk of reinforcing national stereotypes, this American-style fridge is big, noisy and guzzles energy. But it also looks fantastic, and is a superbly-designed piece of kit with exceptional freezing and chilling capabilities. We like it.