Super cheap with a decent fridge, but the freezer really lets it down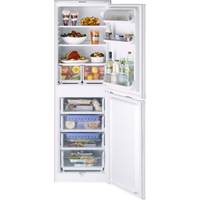 UK buyers on the hunt for a dirt cheap fridge freezer with a couple of neat features might want to cast an eye at the Hotpoint RFAA52P while they're doing their shopping research.
The Hotpoint RFAA52P is the white version of this model, but it's also available in other colours including silver. It's a fairly sizeable fridge freezer with dimensions of 174 cm (H) x 54.5 cm (W) x 58 cm (D), a fridge capacity of 150 litres and a freezer capacity of 85 litres. There are four shelves in the freezer and two in the fridge - with the interior of both being well designed for fitting an optimum variety, and number, of products. The inside of the fridge door has some good deep holders to stop bottles rattling around, while one of the door racks is covered for additional chilling. You also get little troughs under the fruit and vegetable boxes to collect water when you're defrosting the freezer; a nice touch. Ice Care is a Hotpoint design whereby you have neat integrated ice tray drawers to make best use of your storage space. Finally, on the features front, you have a compartment for rapid freezing – useful when you've just returned from the supermarket and the ice cream is beginning to melt.
The fridge chills quite nicely and is well insulated. It won't chill your fresh food as quickly as some, but still does a decent job while maintaining low temperatures, even in the face of pretty extreme kitchen heat – up to 43 degrees centigrade in fact. The freezer has a four-star rating but takes forever to freeze even average loads; it can only freeze 1.5kg at any one time, for example. This immediately becomes impractical for anyone who likes to do one big weekly shop rather than buy frozen goods piecemeal.
There are a three other points to make here – all negative; there are reports that the thermostat is so inaccurate that you'll need to invest in a thermometer to get your temperatures right; the power failure safe storage period for this model is just 13 hours; and finally, this machine makes 44 decibels of noise – which is above average for a model of this size.
What's hot:
Good insulation keeps temperatures stable
Relatively inexpensive
Fridge is good
What's not:
Thermostat erratic
Freezer next to useless
Not as energy efficient as it could be
Why you should buy it: Hmm. Oh dear. This may not be the worst fridge freezer, and for the bargain basement price you might still want to consider it. But if you value freezer function then we'd suggest this isn't the model for you.