This top-notch American-style fridge freezer is as good as they come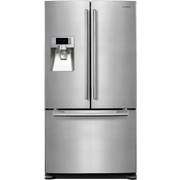 If you're happy to splash the cash for a top-of-the-range, freestanding, American-style fridge freezer that will become a real talking point in the kitchen – one with every fancy feature under the sun – then the Samsung RFG23UERS could be the one for you.
This three-door offering from Samsung is a real behemoth. Standing at 177.4 cm (H) x 90.8 cm (W) x 71.2 cm (D) and weighing in at 142 kg, this beast of a fridge freezer has a gigantic capacity of 520 litres, enough to see you through a long winter in one load. It's a beautifully designed piece of kit, with the double doors of the fridge containing a glowing LED display just above the water and ice dispenser. The 396 litre fridge has three main shelves – two of which can split and are adjustable in height. There are six shelves on the inside of the doors with a drinks rack and two crisper compartments. And there's also a drawer with its own separate temperature control and multiple modes such as 'Fresh' for fruit and vegetables, or 'Deli' for cooked meats. The freezer is a spacious 124 litre pull-out drawer split into two main sections with deep and easy-to- access departments.
The RFG23UERS is crammed with amazing additional features. The digital temperature control is very accurate while there's also a child lock to prevent wandering young hands mucking with the settings. There's a temperature warning light and an open door alert if your fridge is getting too warm or the door hasn't sealed properly. There's Ecospace ultra-thin insulation to provide more capacity; a holiday mode; fast freeze for rapidly freezing newly-introduced items; a humidity drawer for improving freshness; multi-flow cooling for maintaining an even temperature; and of course the water and ice dispenser with both cubed and crushed ice available (perfect for making mojitos or caipirinhas).
Most importantly, this fridge freezer chills and freezes quite brilliantly. Temperatures are accurate and the power of this model is magnificent. It can also withstand kitchen temperatures up to 43 degrees centigrade before its contents can be affected. If there is one small downside you only have 12 hours of safe storage in the event of a power cut, which is less than you'd expect from a top model such as this. Finally, the RFG23UERS is surprisingly cheap to run considering its epic proportions, and it's relatively quiet for its size too, generating just 44 decibels (the same decibel level as birdsong).
What's hot:
Beautifully designed
Freezes and chills brilliantly
Very efficient for such a big model
What's not:
Expensive to buy
Power failure safe storage of just 12 hours
Needs to be plumbed in
Why you should buy it: UK buyers on the hunt for a near perfect, beautifully-designed American-style fridge freezer with oodles of awesome features should do themselves a favour and check out the RFG23UERS. It may be expensive but it's right from the very top drawer.